My four year old is rhyming all the time these days. He's constantly going through all the words that could rhyme by changing the beginning sound. It's all day long! I love this stage because it tells me they are starting to get ready for learning to read and word families. This Rhyming Puzzles Busy Bag is perfect for him to practice identifying rhyming words.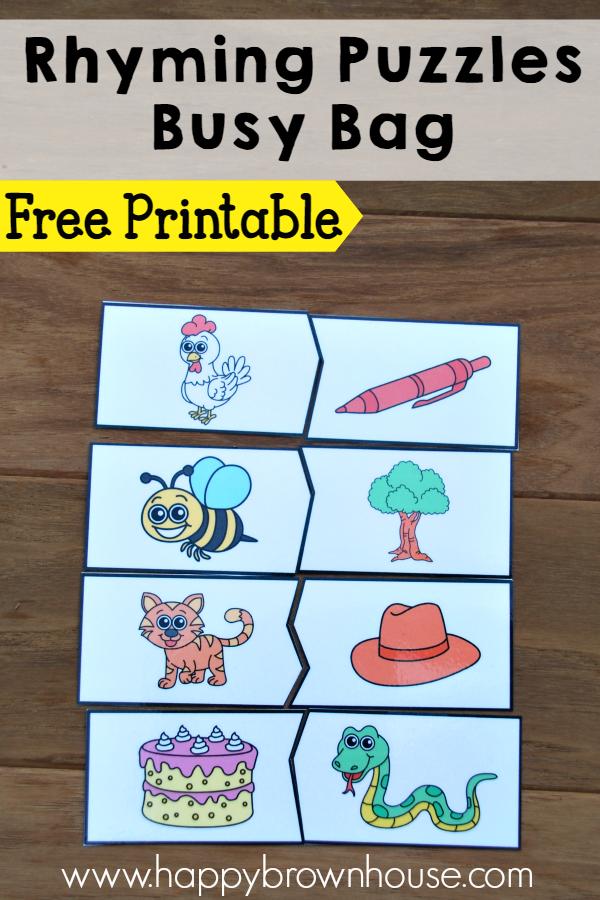 Rhyming Puzzles Busy Bag
Materials: 
Printer with color ink
Scissors
Rhyming Puzzles printable (found below)

Directions: 
Print the Rhyming Puzzles on Cardstock. Laminate for durability. Cut the puzzles apart. Now it's time to play!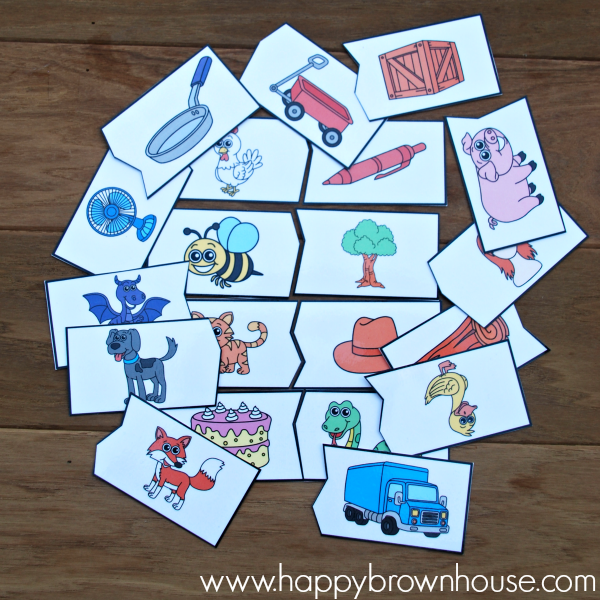 Have your child match the two pictures that rhyme. There are 10 puzzles included: hen/pen, tree/bee, cat/hat, snake/cake, fox/box, truck/duck, dog/log, pig/wig, pan/fan, dragon/wagon. I suggest playing this with them the first time to help them learn the names of some of the pictures they might not know like wig, log, or dragon.
Teaching tip: To make the puzzles self-correcting, add the same sticker to the back of each rhyme. Then, use a different sticker for the next rhyme and so on. This is one way kids can double check to see that they have put the puzzles together correctly.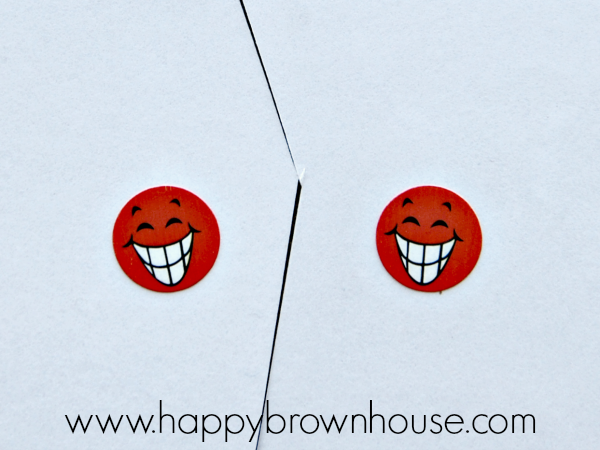 Why is rhyming important?
Rhyming is an important literacy skill for early learners. Research shows that rhythm and rhyme play an important role in literacy development. This is because children's early literacy skills are about listening and speaking rather than reading and writing. These first two skills, listening and speaking, are the foundation for reading and writing and, when ingrained early on, are indicators for stronger literacy development. In the past, nursery rhymes, rhyming songs, and chants were often part of everyday life with children. In recent years, these nursery rhymes have started to fizzle out. Almost all of the children in my kindergarten class during my time in the public schools had never heard a nursery rhyme! Solid rhyming skills will lead to greater auditory discrimination, stronger phonemic awareness, and vocabulary–all of which are the foundation for literacy development.
So, in short, rhyming is important!
Other Busy Bags you might be interested in:
Alphabet Dominoes
Block Shadows Busy Bag
Umbrella Raindrop Counting Busy Bag
Lacing Shapes Busy Bag
Clock Puzzles Busy Bag
Tracing Lines Busy Bag
Alphabet Beginning Sounds Clip Cards Busy Bag
Name Puzzle Busy Bag
Quilt Sudoku Busy Bag
Gumball Counting Busy Bag