If you have a toddler or preschooler, this list of busy bag ideas is just what you need. Busy bags are a great way to keep your toddler or preschooler occupied. Whether it's while you wait in the doctor's office, at a restaurant, or while you are cooking dinner, busy bags for preschoolers can be a life saver!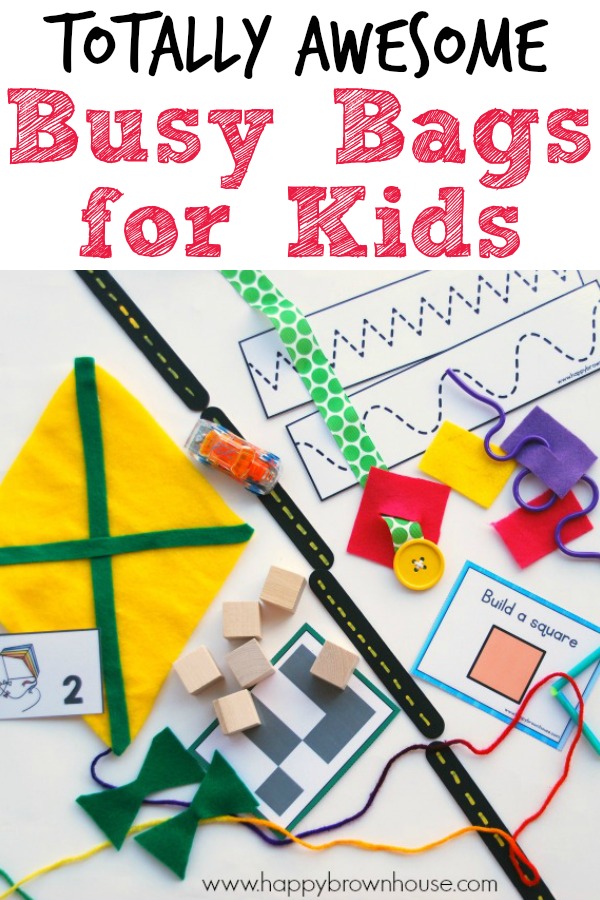 Little hands often need something to do to keep them happy and out of trouble. Most moms have taken something for their kids to do while they wait, but busy bags takes that to another level.
There are lots of things to put in busy bags and there are really no rules. If your kids will play with it for an extended period of time, it's fair game!
I've written about busy bags for kids often on the blog and in my book, Busy Bags Kids Will Love. After sharing so many ideas, I wanted to round them up in one place. Use this list of fun kids activities to help you set up busy bags for your little one.
Reading Busy Bags for Kids
Alphabet Beginning Sounds Clip Cards--Kids will look at pictures and identify the beginning sound. Then they will clip a clothespin to the card on the correct letter. This is a great busy bag for kindergartners.
Alphabet Dominoes Busy Bag--Kids can match up pictures and their beginning sound to the letter that makes that sound. This is a great busy bag for kindergarten age kids.
Name Puzzle Busy Bag--This puzzle activity has kids spelling names of friends and loved ones and matching up their picture. If you follow the steps for supporting younger learners, this activity could be a busy bag for preschoolers, but I usually use it with my kindergarten kids.
Rhyming Puzzles Busy Bag--Kids will match pictures of rhyming words in this kids activity. It's perfect for phonological awareness. This is a great preschool or kindergarten activity to work on rhyming.
Math Busy Bags for Kids
Block Shadows Busy Bag--This busy bag helps kids with the beginning stages of area and perimeter. Kids will have to figure out the number of blocks that will fit into a shape. This is a great preschool busy bag.
Clock Puzzles Busy Bag--If you are wanting to help your child learn to tell time, this kids activity has children matching digital and analog clocks. This one is perfect for kindergartners.
Gumball Counting Busy Bag--This activity helps children identify numbers and practice counting that number of objects. This busy bag is great for working on one-to-one correspondence. This is a busy bag for preschoolers or kindergartners.
Kite Counting Math Busy Bag--This is another counting activity in which kids will identify numbers and count the bows on a kite string. I would use this as a preschool busy bag or a kindergarten busy bag.
Umbrella Raindrop Counting Busy Bag--Perfect for a rainy day, this one helps with counting practice, too. Kids will pick a number cards and count the number of raindrops. This is a busy bag for preschoolers or kindergartners.

Fun Busy Bags for Kids
Build-a-Minion Busy Bag--Does your child like Minions? Kids can play a game and build a Minion at the same time. This one is great for all ages.
Quilt Sudoku Busy Bag--Need a critical thinking activity for kids? This busy bag will have kids playing the popular game, Sudoku. This one is probably best for kindergartners and up.
10 Rainbow Busy Bags for Preschoolers--These preschool busy bags are fun for kids that are learning to identify colors.
Fine Motor Skills Busy Bags for Kids
Lacing Shapes Busy Bag--Help kids strengthen their fine motor skills and learn shapes at the same time by learning to sew around colorful shapes. I use this as a preschool busy bag, but even kindergartners or other kids that need to strengthen fine motor skills could use this one.
Tracing Lines Busy Bag--This tracing activity is our most popular busy bag. It's perfect for preschoolers and kindergartners learning how to write.
STEM Busy Bags for Kids
Straw and Pipe Cleaner Busy Bag--Kids can build shapes and structures with just a few simple materials. This one is loads of fun and appropriate for all ages.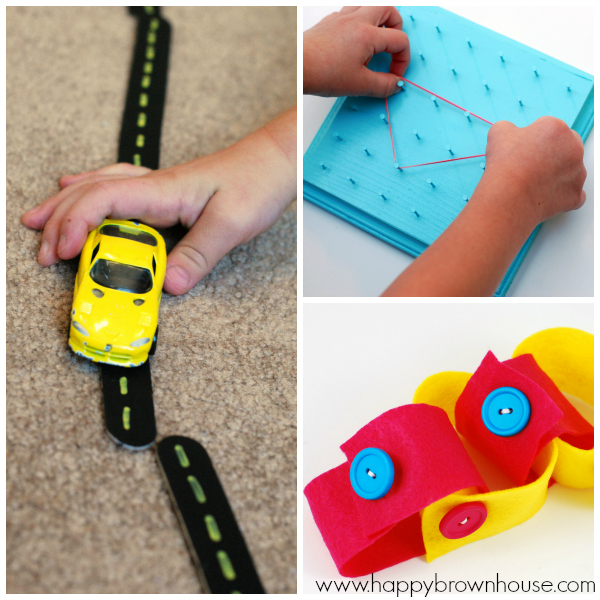 Making busy bags for preschoolers or toddlers is a great way to prepare them for school. Busy bags are a perfect way to work on targeted skills for your child. But where do you start? How do you decide what skills to work on?
I've made a list of 100 Things Kids Should Know Before Entering Kindergarten. This list of kindergarten readiness skills is a great place to get ideas for making your next busy bag.
Some of the skills I would focus on the most would be:
Letter recognition
Matching uppercase and lowercase letters
Number recognition
Counting practice up to 20
Sorting objects by color, shape, and size
Recognizing simple patterns and duplicating them
Busy Bag Ideas for Kids Pinterest Board
Want even more busy bag ideas? I search for and pin the best busy bags for kids on my Busy Bag Ideas for Kids Pinterest board. Be sure to follow the board and see all of the great busy bag activities for kids. I pin to it all the time, so check back often and find new busy bags. You'll find preschool busy bags, toddler busy bags, and even some busy bags for older kids on this Pinterest board.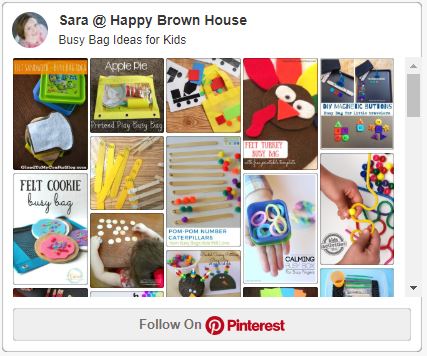 Recommended Resources for Busy Bags
More Fun Activities for Kids
Easy Science Experiments for Kids