Stocking Stuffers are always the last thing I think about. I'm usually scrambling around the store at the last minute looking for something to throw in my kids' stockings that are cheap, but still useful. This list of 125 Stocking Stuffers for Kids under $10 or Less is my way of thinking ahead this year. I know, I know…we haven't even carved the turkey yet, but I'm trying to "work smarter not harder" this year. I WILL be done with Christmas shopping early this year. I promise. So, since I've been thinking ahead, I thought I would share the list with you on the off-chance that you were already thinking about Christmas, too.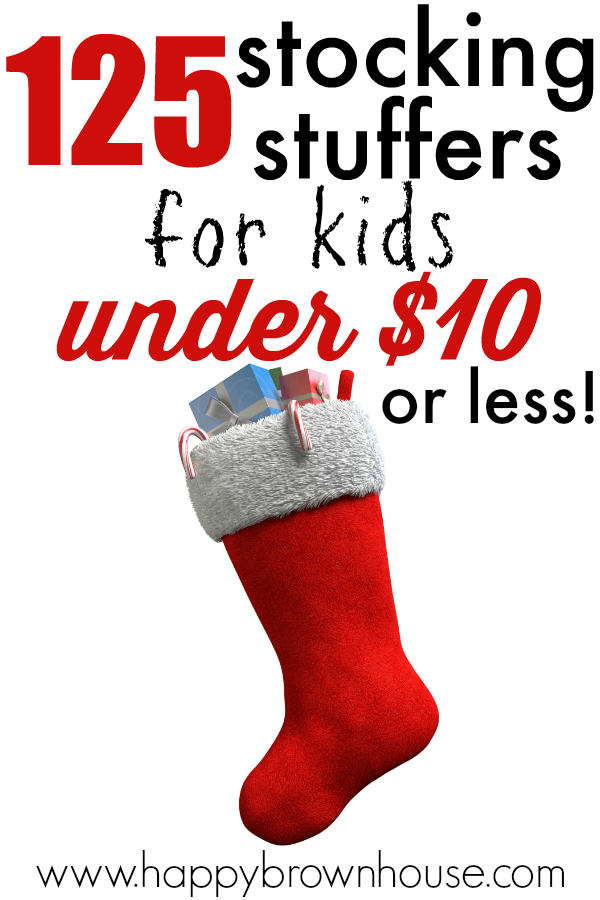 Stocking Stuffers for Kids under $10
This list of stocking stuffers is broken up by category for your convenience. I like to vary the items in my kids' stockings, so I thought it would be helpful to break it down a little bit.
*Amazon affiliate links are present.*
Arts & Crafts


Learning
Board books or Books
Kids Magazine (Subscribe to one and have the first one in their stocking. The Lego Club Magazine is FREE.)
Mini Puzzles
Learning Workbooks
Mini Journal/Diary
School Locker Accessories
Patches, Badges, or Pins for Backpacks
Fine Motor Tools for sensory bins


Play & Toys


Wearable Items


Toiletries


Household Items
Character Cups
Expandable Washcloth
Disposable Camera
Earbuds for the iPad
Headphones for the iPad (for little kids)
A personalized keychain or bookmark
$2.00 bill
iTunes Gift Card
Personalized Christmas Ornament
Magnets
Mini Snowglobe
Umbrella (ocean print, frog, Disney Frozen, cars print)


Food & Candy
Oversized Candy Bar
Oversized Lollipop
Gum
Pez Dispenser
Fruit Snacks
Restaurant Gift Certificate (about $5)
Chocolate Coins
A mug with a novelty hot chocolate mix
A gift certificate to an ice cream or frozen yogurt shop
An Orange (this is a traditional item and I always had one in mine)


Stocking stuffers for kids don't have to be boring. There are lots of possibilities! What else would you add to the list?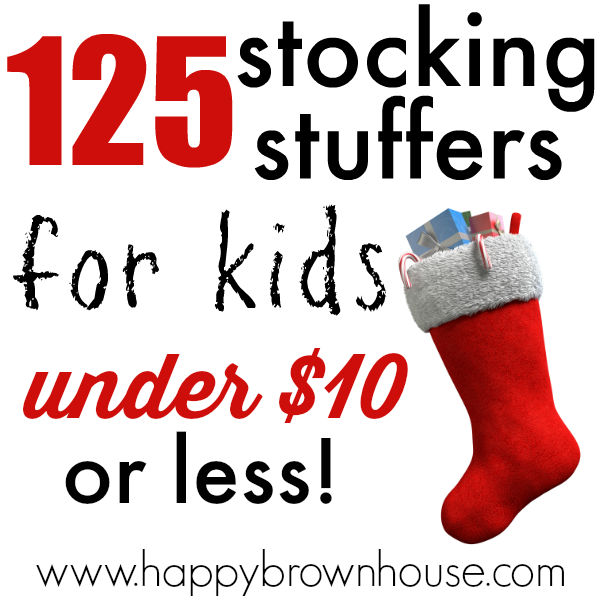 This post is part of a larger group of gift guides. There are over 50 gift guides for you to look through and find the perfect gift for your kids. Let's get that shopping done early so we can enjoy the holidays!