This Tracing Lines Busy Bag is perfect for helping your preschooler learn to write. This busy bag idea is super easy to make. There is only a little bit of work involved and your child will be tracing lines in no time.
In this easy busy bag idea kids will practice tracing lines with a dry erase marker that is easily wiped off. To make it, you simply print, laminate, and cut. Super easy!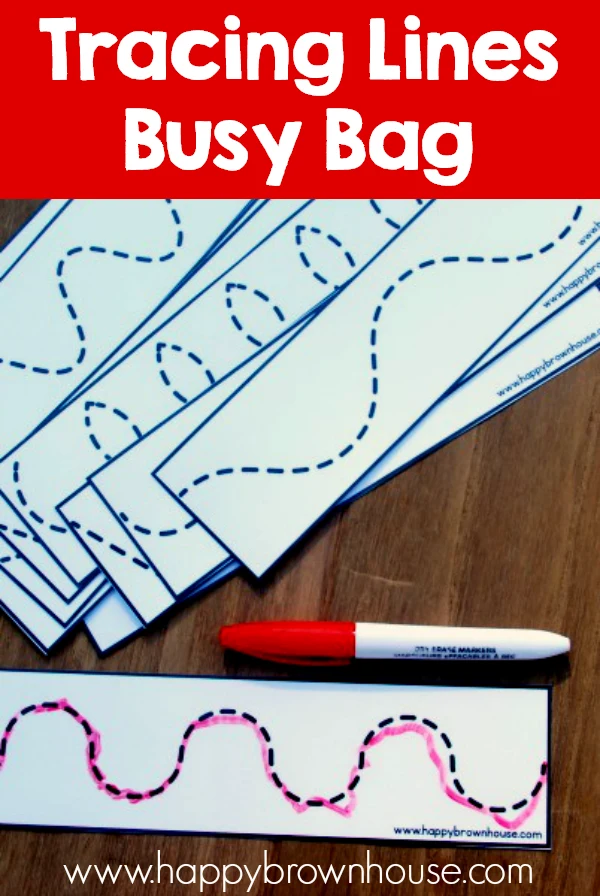 This printable for a tracing lines busy bag is a perfect introduction to writing for preschoolers. This preschool busy bag idea is a perfect way to put those fine motor skills into practice and let children begin to learn to write.
Tracing lines is a natural progression for kids who are learning how to write. The tracing lines in this printable busy bag feature a lot of pre-writing strokes kids need to learn to form letters. For example, the slanted/zig-zag lines are great for kids learning how to write the letters A, K, M, N, V, W, and Z.
These pre-writing strokes are an integral part of learning how to write, so let's make sure to give kids lots of practice. Since this busy bag involves a dry erase marker, the kids can erase and trace as many times as they want.
Tracing Lines Busy Bag
You will need (affiliate links included):
Directions:
Purchase and download the printable Tracing Lines Busy Bag from my blog shop.
Print the printable Tracing Lines pages.
Laminate and cut out.
Let your child practice tracing the lines with a dry erase marker. Since it is laminated, it will wipe off easily.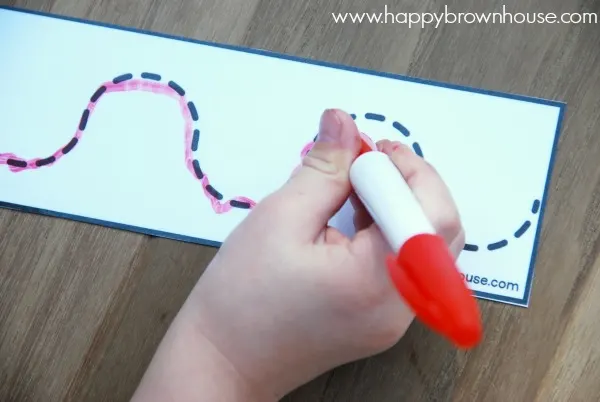 Teaching Tips:
Hole punch the tracing lines cards and place them on a book ring to keep them held together.
Place a small square of felt in the bag to be used as an eraser.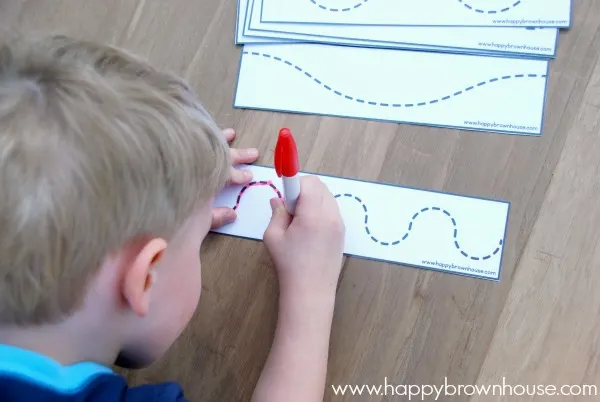 Fine Motor Skills First
I am a firm believer in working on fine motor skills through play and not just writing and tracing worksheets. I don't push holding a pencil or writing until they show interest. In this case, I am following my child's lead and providing him with the next step in learning how to write. This will be added to our busy bag rotation and will not be used daily unless he chooses to. I will continue to provide lots of natural ways to develop fine motor skills and continuing to teach proper pencil grip. I encourage you to do the same until your young child is ready and showing interest.
More on Fine Motor Development
6 Tips to Correcting Pencil Grip
The Ultimate Guide to Developing Fine Motor Skills
What's the Big Deal About Fine Motor Skills Anyway?
Fizzy Fine Motor Fun
Pound the Sound
Click here to buy the Printable Tracing Lines Busy Bag in my blog shop
*Please note: the free period for this printable has ended.
Other Printable Busy Bags you might be interested in:
Alphabet Beginning Sounds Clip Cards Busy Bag
Block Shadows Busy Bag
Clock Puzzles Busy Bag