This Valentine's Day Letter Tiles Spelling Mat Printable is great for Valentine's spelling practice for kids. These make a great literacy activity to add to a Valentine's Day theme in your homeschool or classroom.
There are so many ways to use this printable Valentine's Day spelling activity to teach your preschooler or kindergarten student some Valentine's Day words and practice literacy at the same time.
These colorful printables are perfect for independent, hands-on literacy activities for preschool or kindergarten kids. They also make great Valentine's Day themed word work activities in a literacy center.
Kids will love it!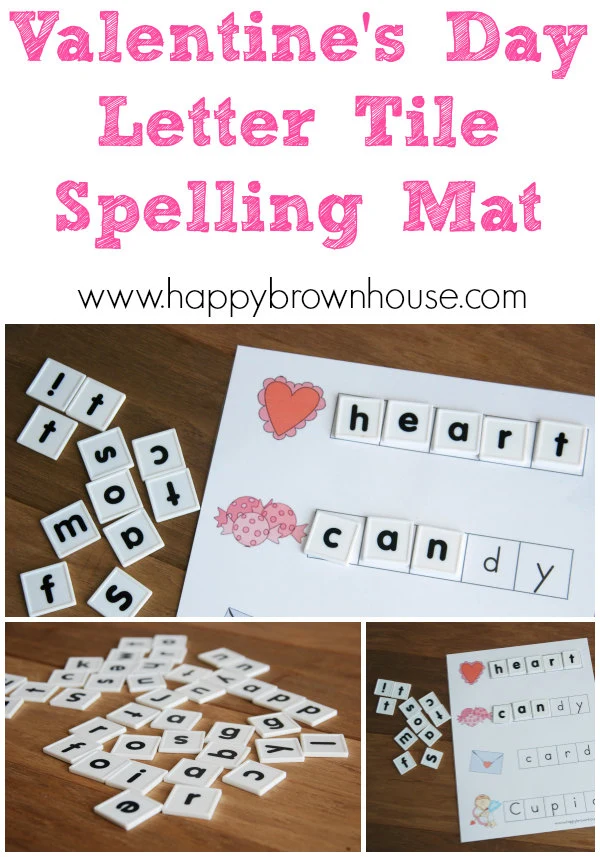 What is the learning benefit of this printable?
These Valentine's Day spelling activities for preschoolers or kindergarteners are the perfect way to have fun learning to match letters and spell new Valentine's Day words. The themed words introduce preschoolers or kindergarteners to new Valentine's Day vocabulary. Little learners can use the various levels included to support their learning level by letter matching, beginning sounds, and spelling words in the blanks provided.
What it includes:
The Valentine's Day Letter Tile Spelling Mat is full of hearts, love, candy, and Cupid. The Valentine's Day Letter Tiles Printable includes themed vocabulary, pictures, and letter tile boxes.
There are three versions of each letter tile spelling page:
a page for letter matching
a page for beginning sounds
and a page with blank squares that can be used for spelling with letter tiles, stamping words, or practicing writing the letters
To prepare to use these with your child or students, simply print, laminate, and play with letter tiles.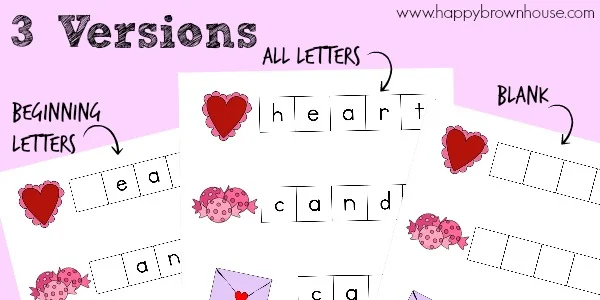 Creative Ideas for Valentine's Day Letter Tile Spelling Mat:
Which Letter Tiles Should I Use?
These letter tile printable pages were designed specifically for the the Eureka Tub of Letter Tiles because it was the product in my own personal cabinets. They are 1-inch x 1-inch square tiles. If you can't find those specific letter tiles, you can also use other brands, but know that the size may be slightly different.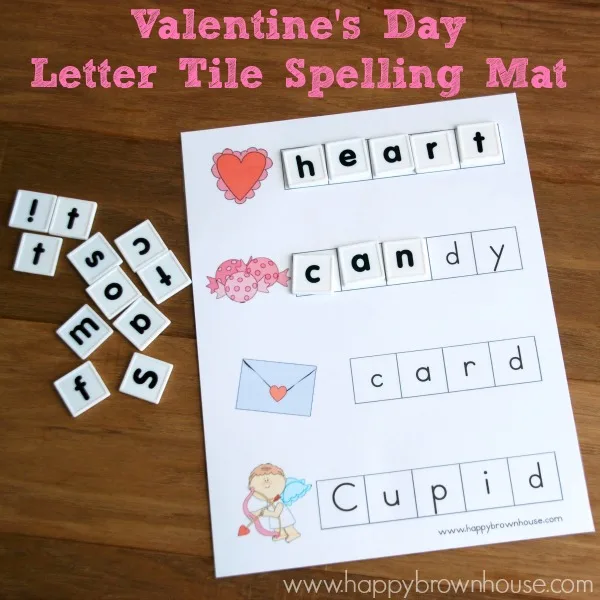 Want more themed Letter Tile Spelling Mat Printables?
This Valentine's Day Letter Tiles Spelling Mat Printable is just one of the seasons included in the Seasons & Celebrations Letter Tile Bundle.
If you'd like to get all 80+ pages of the Seasons and Celebrations Letter Tile Printables sent to you at once, you can purchase the bundle. This will save you lots of time in downloading and allow you to prepare materials in advance.
More Valentine's Day Fun for Kids