My kids love to use tape. Actually, I can't think of a child I know that doesn't like to use a tape dispenser. Using tape is such a great way to work on fine motor skills that when I saw some sparkly, festive tape dispensers at the Dollar Tree, I quickly stuck them in my cart for some preschool fine motor fun. We paired our washi tape with a recycled mason jar lid and made an easy homemade mason jar lid ornament for preschoolers. If you're on the hunt for some easy kid-made ornaments for your classroom, daycare, homeschool co-op, or Sunday School class, this Washi Tape Mason Jar Lid Ornament would be perfect!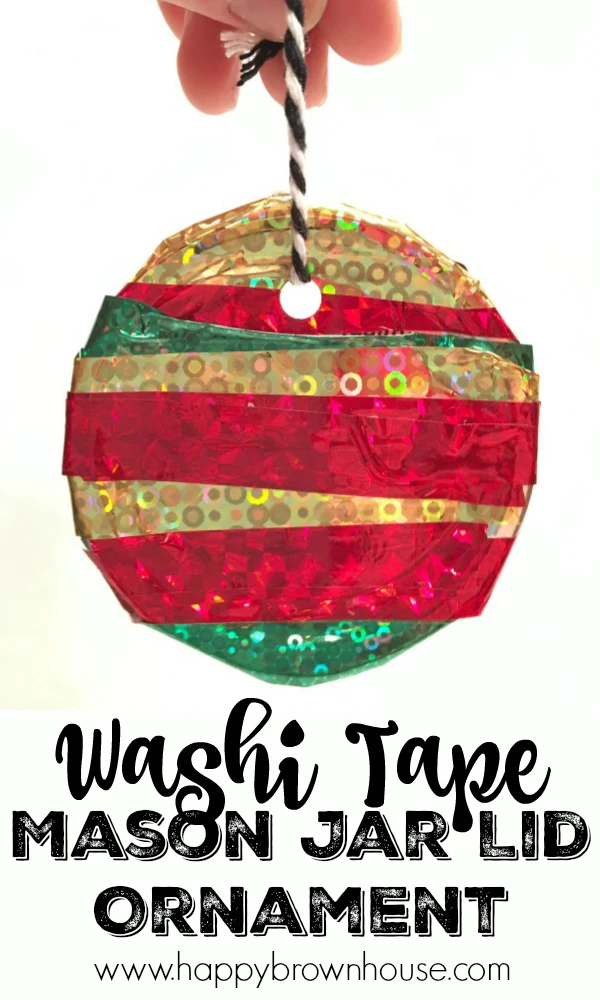 Dislosure: This post contains affiliate links. Meaning, at no cost to you, I will earn a small commission if you purchase through these links.
My youngest was excited to use the sparkly tape to make this Washi Tape Mason Jar Lid Ornament. Watching Asher get tangled up in the sticky tape made me think of the cover of the children's book Merry Christmas Mom and Dad
by Mercer Mayer. The main character, Little Critter, gets in all kinds of silly situations while preparing for Christmas--stuck in the tape while wrapping presents, tangled up in the twinkle lights, and many more hilarious things that made my kids laugh out loud. Asher looked a little bit like Little Critter in the book cover below by the end of this craft, but he loved every second of it!
Materials
Make a Washi Tape Mason Jar Lid Ornament
Have your child place strips of the sparkly washi tape across the mason jar lid.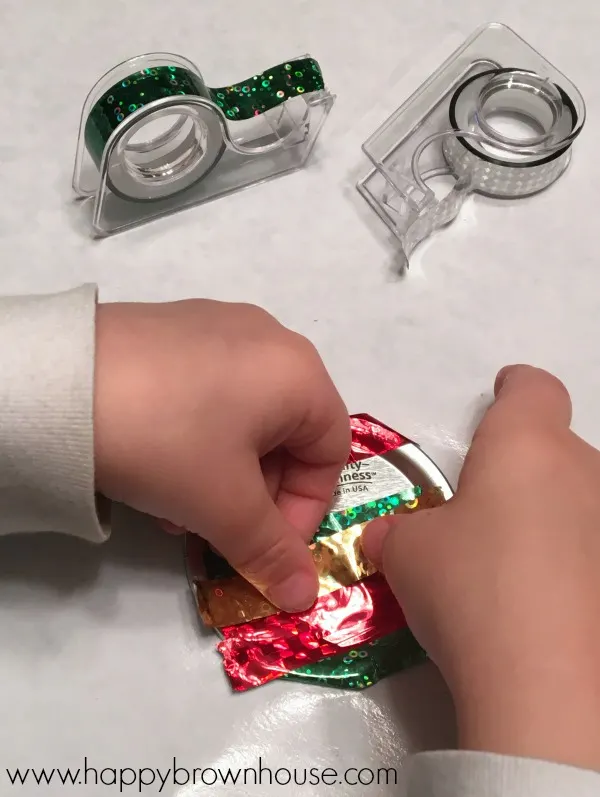 There is no right or wrong way here. I encouraged my four year old to let the tape hang off the edges and then we could curl the excess around the back of the mason jar lid. He decided not to wait until the end and did this for each piece. Whatever works, right?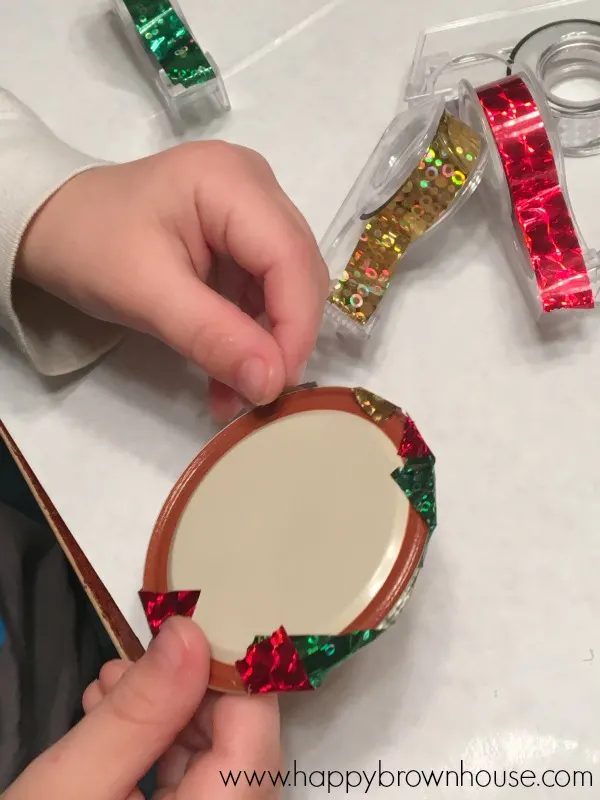 When the lid is covered with sparkly tape, use a hole punch and a little oomph to punch a hole in the canning jar lid. Use some ribbon or baker's twine to thread through the hole and make a loop.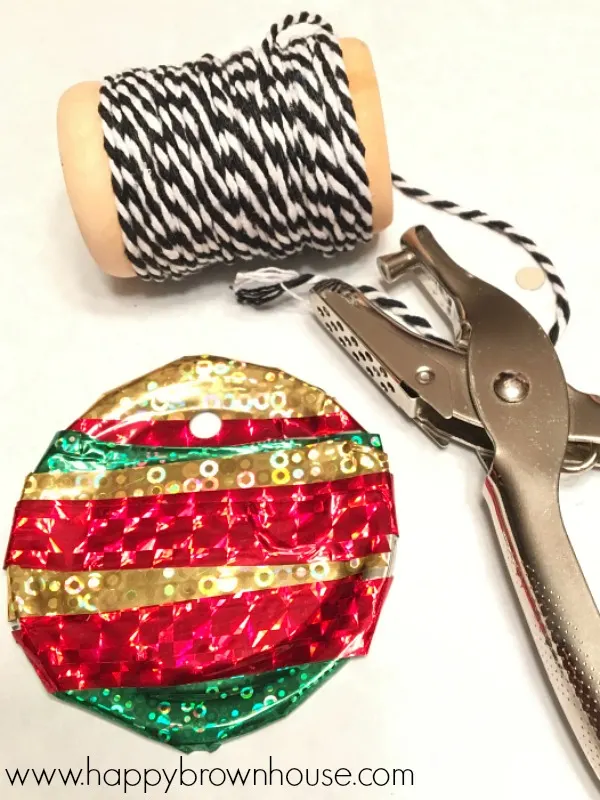 Don't forget to write the name and date on the back so you'll always remember who made this ornament! Hang on the tree and enjoy it in all its sparkly kid-made goodness.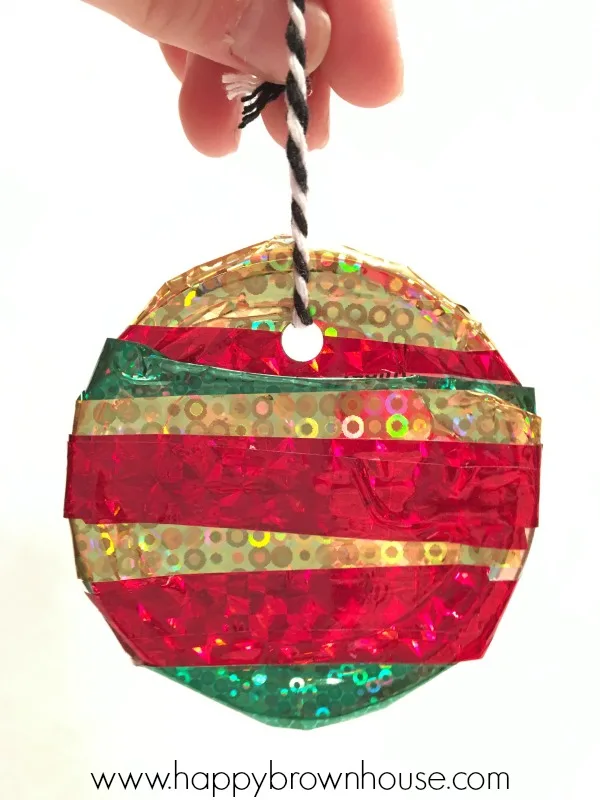 Want more Christmas Ideas?
Wood Slice String Art Ornament
Ultimate Guide to Christmas Crafts for Kids
Mason Jar Lid Snowman Ornament
Nativity Books for Kids
10 DAYS OF A KID-MADE CHRISTMAS
Are you still searching for the perfect kid-made Christmas craft or activity for your kids, grandkids, scout group, or classroom? Click the image below to visit the landing page for the 10 Days of a Kid-Made Christmas series hosted by Mama Miss. All of the ornaments in the series are inspired by children's books and there will be 70+ ornaments by the end of the ten days. We had such a fun time last year with our Rainbow Fish Inspired Perler Bead Ornament that we had to join in the fun again!
You can also follow along by searching the hashtag #KidMadeChristmas on Twitter and Instagram!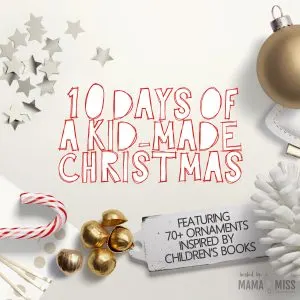 DAY 3 CONTRIBUTORS
Shared below are links to the Day 3 crafts and activities. Which one will you make?!
A Little Pinch of Perfect--Homemade Cinnamon Christmas Ornaments
What Do We Do All Day?--Tomten Garland
The Life of Jennifer Dawn--DIY Wood Slice Ornament
Adventures of Adam--Norman The Slug Who Saved Christmas Ornament
Mama Smiles--Polymer Clay Snowman Ornaments
One Time Through--Easy Fabric Ornaments
Buggy and Buddy--Button Star Christmas Ornament
Kitchen Floor Crafts--Mitten Ornaments
Montessori Nature--Christmas Star Kid-Made Ornament