I took a stroll around our little yard today. I took in some fresh-squeezed vitamin D, straight from the sun and I breathed fresh Tennessee air. Each breath I took was like someone popping grey balloons full of colorful paint that ran down a canvas making a beautiful piece of art. Almost like waking up from a gloomy dream, I took notice of tiny green buds forming on the trees and hydrangea bushes ready to burst forth in spring's song.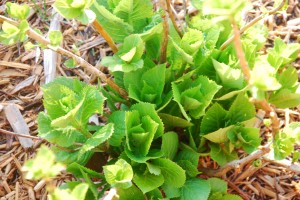 I was reminded that winter always ends. Spring always comes. Even in these dark dreary months of uncontrollable pregnancy sickness, there is hope of beauty...a baby. Even when my soul feels like it's suffocating from being cooped up all winter...spring always comes. If I'll just hold on a little longer, the clouds will clear and the flowers will wake from their slumber.
Winter Always Ends. Spring Always Comes.
*Just an update on my pregnancy--I'm still very sick and if you can tell by the tone of my post, it's really wearing on me. I often wonder why I have this illness during pregnancy when all the others around me seem to have the "perfect" pregnancies filled with ice cream cravings and shopping for tiny clothes. But I am VERY aware that some women would give anything to have hyperemesis if it meant they could give birth to a child. On a positive note, I have felt the baby moving this week! So there's my promise of spring!