While our family doesn't do much for Halloween, we have made sure our costumes end up in the dress-up corner to play with all year long. Recycling Halloween costumes is a great way to make the fun last year-round. I've rounded up some of my favorite creative dress-up ideas for girls that will give your girls loads of fun.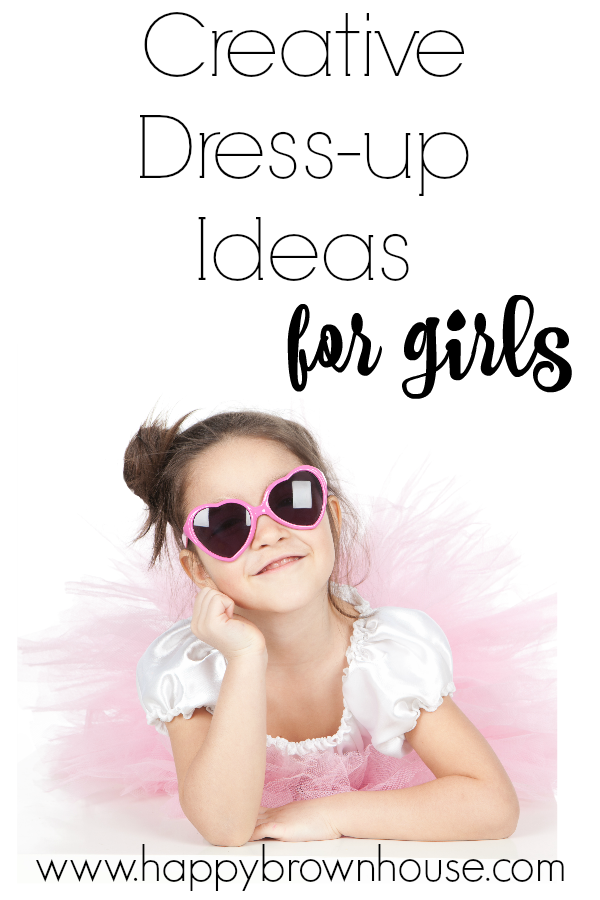 My kids love to play dress-up. With our DIY Preschool Dress-Up Corner, there are plenty of opportunities to put on costumes and pretend they are someone else. Pretend play is a staple of childhood. It's important, too! When kids engage in pretend play (sometimes called dramatic play), they are taking on new roles. They have a chance to practice language, learn about themselves and the world, and have the opportunity to work out new life issues. There is a lot of research and many more things that pretend play helps, but the important thing for you to know is that pretend play is important to childhood.
The costumes below are just a handful of ideas for costumes for Halloween or to fill up the dress-up corner. I love that there is an even mix of ideas for girls that aren't just princess costumes. While I know plenty of girls want to be a princess all the time, it's important for girls to see themselves in other roles as well. Click on the picture to find out more about the costume.
*Affiliate links are present.
Princess Costume
Mermaid Costume
Ballerina Costume
Rock Star Costume
Little Red Riding Hood Costume
Little Bo Peep Costume
Cowgirl Costume
Queen Costume
Super Hero Costume
Astronaut Costume
Doctor Costume
Veterinarian Costume
Hair Stylist Costume
Chef Costume
Waitress Costume
Zoo Keeper Costume
Hollywood Diva Costume
Pirate Costume
Cheerleader Costume
Pharoah's Princess Costume
Minnie Mouse Costume
Tinkerbell Costume
Ariel Costume
Cinderella Costume
Sleeping Beauty Costume
Belle Blue Dress Costume
Belle Princess Dress Costume
Rapunzel Costume
Tiana Costume
Snow White Costume
Sofia The First Costume
Merida Costume
Elsa Costume
Anna Costume
Alice in Wonderland Costume
Moana Costume
The Incredibles Violet Costume
Star Wars Rey Costume
Supergirl Costume
Wonder Woman Costume
Captain America Costume
Batgirl Costume
Catwoman Costume
Robin Costume
Of course, sometimes the best dress-up ideas come from the kids themselves. I know girls with a good imagination can pretend lots of things with just a large piece of fabric. What other ideas would you add to the list?
Need ideas for boys? Check out these Creative Dress-up Ideas for Boys.