As we've been continuing our study of countries and cultures in our homeschool, we've taken a virtual field trip to France with these France Books For Kids. These books have given us a glimpse into what life is like in France, great artists and famous people from France--wonderful stories to curl up on the couch and listen to, and more. These are perfect for a France unit study.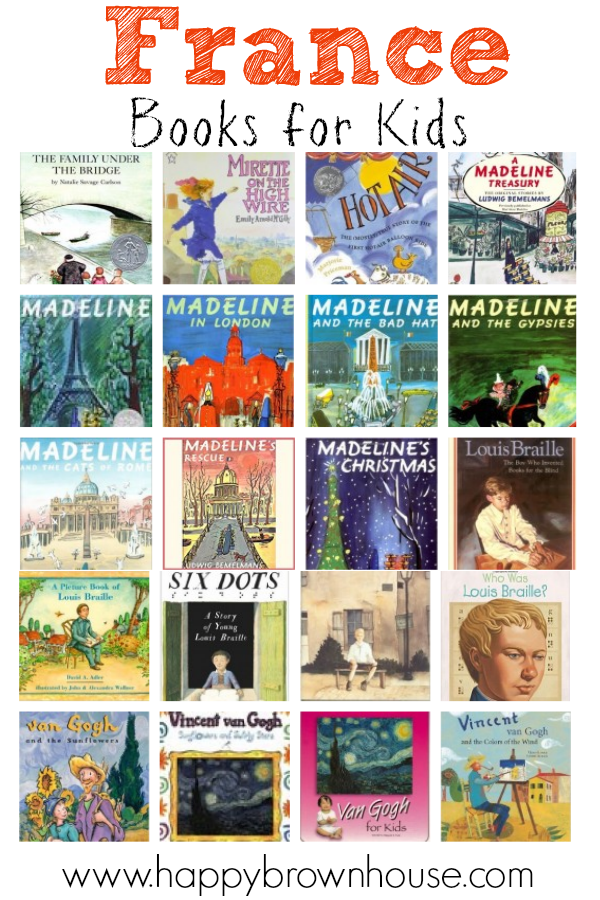 Disclosure: Affiliate links are present.
Click on the image of the books below to find them on Amazon or to read more information about them. Some of our favorites are up toward the top, but really, we loved them all!
France Books for Kids
The Family Under the Bridge
Mirette on the High Wire
Hot Air: The (Mostly) True Story of the First Hot-Air Balloon Ride (Caldecott Honor Book)
A Madeline Treasury: The Original Stories by Ludwig Bemelmans
Madeline
Madeline's Christmas
Madeline's Rescue
Madeline in London
Madeline's Tea Party
Madeline Says Merci: The Always-Be-Polite Book
Madeline and the Bad Hat
Madeline
Madeline and the Old House in Paris
Louis Braille: The Boy Who Invented Books for the Blind (Scholastic Biography)
Who Was Louis Braille?
Six Dots: A Story of Young Louis Braille
Out of Darkness: The Story of Louis Braille
A Picture Book of Louis Braille (Picture Book Biography)
Louis Braille: The Blind Boy Who Wanted to Read (Remarkable Children Series)
The World at His Fingertips: A Story about Louis Braille (Creative Minds Biography)
Louis Braille (History Maker Bios (Lerner))
Louis Braille (Lives and Times)
van Gogh and the Sunflowers (Anholt's Artists Books for Children)
van Gogh and the Sunflowers (Anholt's Artists Books for Children)
Van Gogh For Kids (Great Art for Kids Series)
Make a Masterpiece -- Van Gogh's Starry Night (Dover Little Activity Books)
Vincent Van Gogh: Sunflowers and Swirly Stars (Smart About Art)
Coloring Book Vincent Van Gogh (Prestel Coloring Books)
Vincent van Gogh & the Colors of the Wind
The Magical Garden of Claude Monet (Anholt's Artists Books for Children)
Who Was Claude Monet?
Claude Monet: The Painter Who Stopped the Trains
Linnea in Monet's Garden
Claude Monet (Art Profiles for Kids)
A Moment with Monet (Meet the Artist) (Volume 4)
Claude Monet: Gallery for Kids
Henri Matisse: Drawing with Scissors (Smart About Art)
Matisse the King of Color (Anholt's Artists Books for Children)
Matisse
Matisse for Kids (Great Art for Kids Book Series)
Matisse on the Loose
Colorful Dreamer: The Story of Artist Henri Matisse
Henri Matisse Cut-outs
Matisse For Kids (Great Art for Kids Series) (2003-10-31)
Pop-up Paris (Lonely Planet Kids)
Kids' Travel Guide - France & Paris: The fun way to discover France & Paris - especially for kids (Kids' Travel Guides)
City Trails - Paris (Lonely Planet Kids)
The Tiny Traveler: France: A Book of Colors
Mission Paris: A Scavenger Hunt Adventure (Travel Book For Kids)
France For Kids: People, Places and Cultures - Children Explore The World Books
This is Paris
Children's Book About Paris: A Kids Picture Book About Paris With Photos and Fun Facts
&
Our Other Book Lists for Kids
14 Picture Books about Building with Blocks, Engineering, and Architecture