I love to take the ordinary and turn it into something beautiful. That's why I love these Melted Crayon Christmas Ornaments so much. By using simple materials, my kids and I were able to make gorgeous ornaments that will hang on our tree for years to come. This ornament is a beautiful addition to any tree.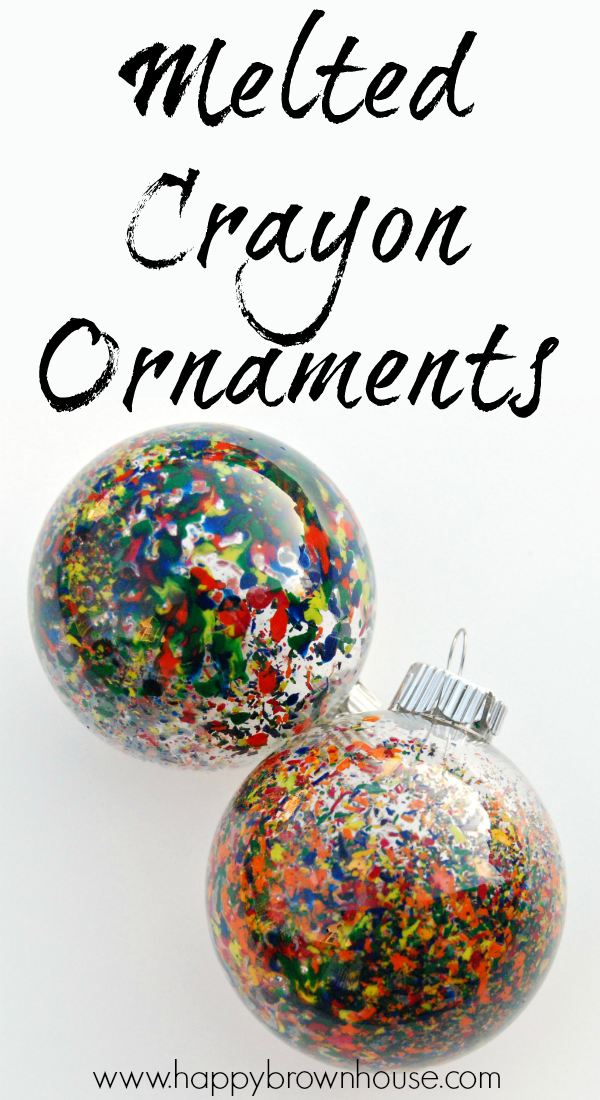 *Affiliate links are present.*
The kids and I were inspired by the book, The Day the Crayons Quit, to make this melted crayon ornament. In The Day the Crayons Quit, poor Duncan just wants to color. But when he opens his box of crayons, he finds only letters, all saying the same thing: His crayons have had enough! They quit! Beige Crayon is tired of playing second fiddle to Brown Crayon. Black wants to be used for more than just outlining. Blue needs a break from coloring all those bodies of water. And Orange and Yellow are no longer speaking—each believes he is the true color of the sun. What can Duncan possibly do to appease all of the crayons and get them back to doing what they do best?
These melted crayon ornaments are super easy to make and they look so beautiful when they are done. You can make these for your tree or to give as gifts. They would make great gifts! Plus, they kind of look expensive like these Boise Glass mouth blown suncatcher ornaments, but without having to pay a lot of money.
You will need:
The Day Crayons Quit
Heavy Duty Glass Balls, 60mm, Clear
Crayola Ultimate Crayon Collection, 152 Pieces
OXO Good Grips 3-Piece Peeler Set
Conair 1875 Watt Full Size Pro Hair Dryer
Silver Ornament Hooks
How To Make Melted Crayon Christmas Ornaments:
Start by having the kids use the vegetable peeler to shave pieces of crayon off. Use a piece of paper underneath the crayon to catch the shavings. This is good fine motor skills practice.
Note: you'll need more crayon shavings than you think. We had to go back and shave more crayons halfway through our ornament.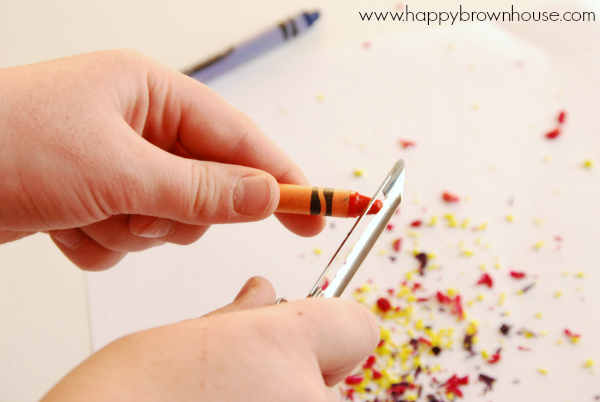 Once the kids have finished shaving the crayons, you'll need to crumble the crayon shavings a bit to break them into smaller pieces. Some of the crayon shavings are a little large. This also helps to mix the colors.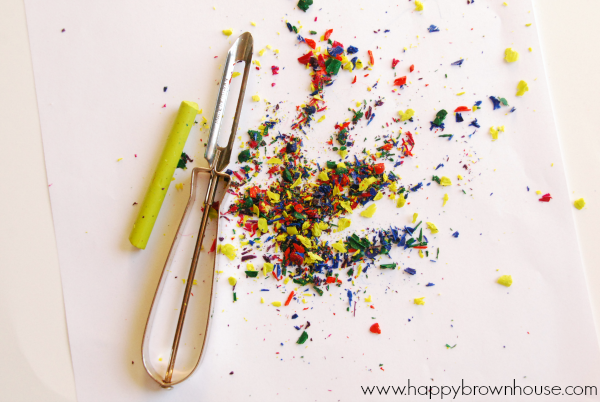 Next, open the top of ornament. Place some of the crayon shavings into the ornament. It's easiest to roll the piece of paper up and place the tip of the paper tube into the ornament so the crayon shavings just fall into the ornament. Wipe off any crayon shavings that got on the outside of the ornament.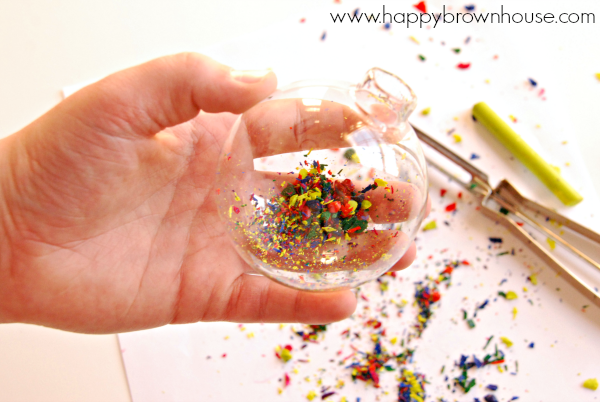 This step is for the adults because it gets hot. You're going to use the hair dryer to melt the crayon shavings. You'll need to roll the ornament around to evenly distribute the crayon shavings. Don't melt them too much in one spot because the colors will run...ask me how I know. If you have any extra crayon shavings, pour them out to use for another ornament.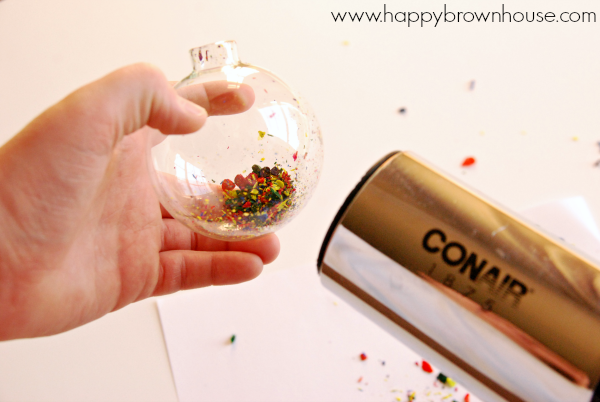 And you're done! Aren't they beautiful?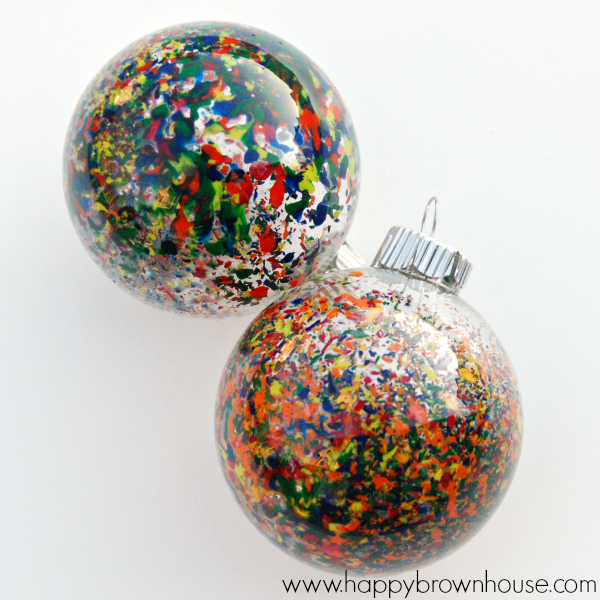 For another ornament look, you can just break pieces of crayon into the ornament and melt them with the hair dryer. Let the melted wax drip down the sides of the ornament while you roll the ornament in your hands.
More kid-made ornaments inspired by books:
Wood Slice String Art Ornament
Rainbow Fish Perler Bead Ornament
Mason Jar Lid Snowmand Ornament
Washi Tape Mason Jar Lid Ornament
I've joined up with some blogger friends to share kid-made ornaments inspired by children's books. You can see all of the kid-made ornaments over at Mama Miss. You can also follow along with the hashtag #KidMadeChristmas.
Here are today's bloggers so you can check out their fabulous book-inspired ornaments:
Handprint Shopkins Ornament | Fun Handprint Art
Christmas Pom-Pom Garland | Kitchen Counter Chronicles
Buffalo Plaid Chrismas Ornament | I Heart Crafty Things
Worded Clay Ornaments | Teach Me Mommy
Aluminum Foil Christmas Tree Ornaments | The Joy of Sharing