We love torn paper crafts at our house. They are easy to make and strengthen fine motor skills for little fingers.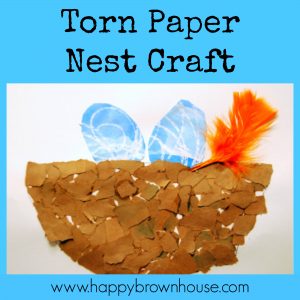 One of my favorite spring time art pieces is the Torn Paper Nest we made during Nn-Nest week in My Father's World Kindergarten last year. Although we made it last year, I realized I never posted about it! It is perfect for Spring Kid Crafts.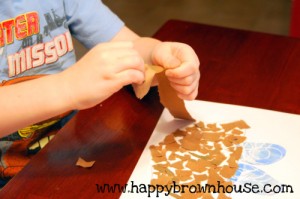 Using our collage box, Jonah found some light blue paper. I helped him trace an egg shape and then he cut the eggs out. He drew the outline of a nest shape on a piece of paper. Next, he glued the eggs down so they looked like they would be sitting in the nest. Finally, he tore pieces of brown paper and glued them in the nest shape. For the final touch, he added a feather. Easy-peasy!