Fine Motor Skills are important to everyday activities such as tying shoes, writing names, and buttoning a shirt. Little hands need practice to develop these skills and strengthen hand muscles. Developing Fine Motor Skills doesn't have to be complicated, but it should always be fun! Use these tips and tricks to help your kids while they are developing fine motor skills.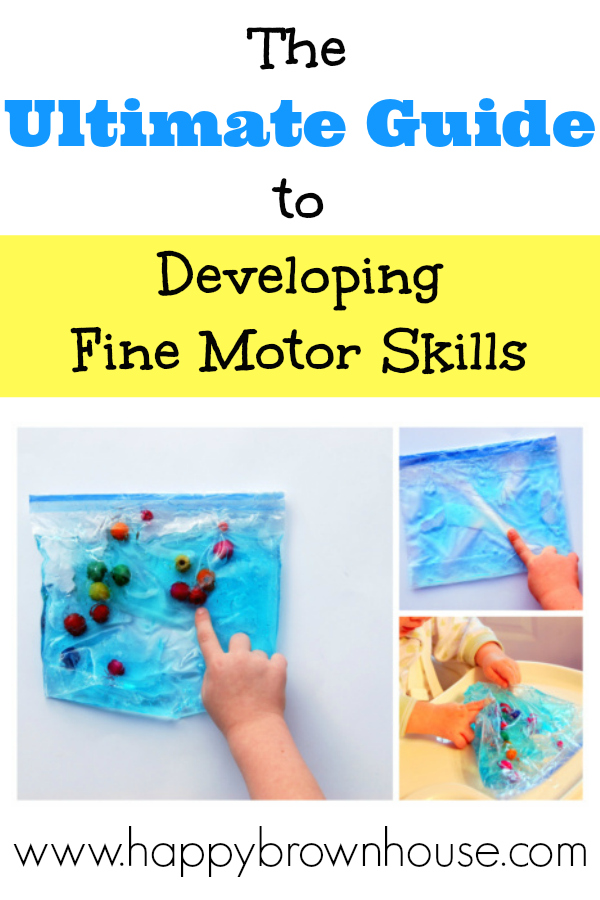 What Are Fine Motor Skills and Why Develop Them? is a great place to start if you aren't sure what fine motor skills really are or why they are important.
Developing Fine Motor Skills Activities for Babies & Toddlers:
Fabric Sensory Box for Toddlers--little fingers explore textures and practice pulling fabric strips out of a hole.
Gel Sensory Bags--let little fingers explore textures and practice manipulating items.
Rubber Band Guitar for Babies--let little fingers try to grasp and pluck the rubberbands to make noise.
DIY Shrinky Dink Ribbon Pull Toy--little fingers pull the ribbon through the holes
10 Fine Motor Activities for Babies & Toddlers from Happy Hooligans
Sticky Sheep from Twodaloo--stick pom poms on contact paper
Types of Fine Motor Skills Movements
Essentially, I believe there are five basic movements that all fine motor skills activities revolve around--tearing, pinching, cutting, lacing, twisting. These basic movements are the basis for so many skills we use in our everyday life.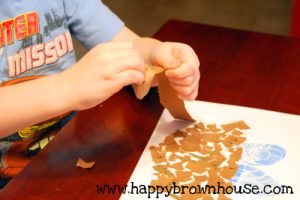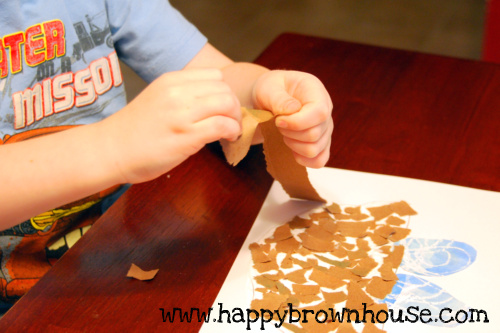 Tearing
Focus on Fine Motor Skills~Tearing
Torn Paper Nest Craft--an easy spring craft for little fingers
Paper Ripping Activity from Craftulate includes different paper textures
Torn Paper Collages from Homegrown Friends
The Train Themed Unwrapping Activity from Craftulate is a clever way to use fine motor skills in an everyday situation. And let's face it, what toddler doesn't like getting into things?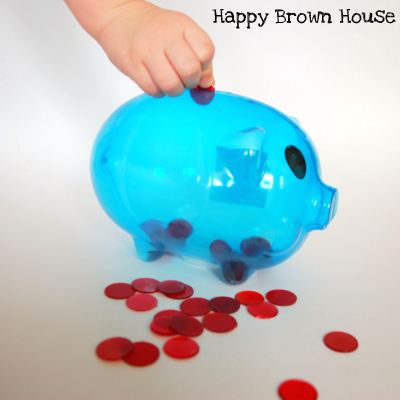 Pinching
Focus on Fine Motor Skills~Pinching
Rainy Day Drip Painting from Minne-Mama is a fun way to use medicine droppers and practice pinching fingers together.
Button Sorting Cups from About Family Crafts is an easy way to practice pinching and color sorting at the same time.
DIY Felt Button Chain is a great way to practice pinching and manipulating buttons.
The Bubble Wrap Learning ideas from Meaningful Mama are a fun way to target a variety of skills.
DIY Cardboard Construction Play Set from Happy Hooligans is a quick and frugal idea.
Rubberband Passing Game--so much fun!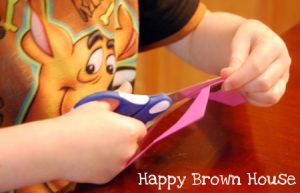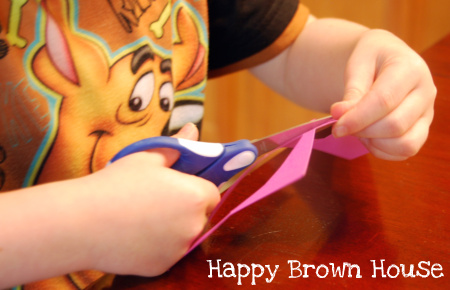 Cutting
Focus on Fine Motor Skills~Cutting
DIY Chopstick Tongs an easy way to make a pair of tongs that will help practice squeezing hand muscles.
Number Punch~use a hole punch to practice squeezing handles
Cutting tissue paper to make a Stained Glass Butterfly Art is always popular at our house.
Cutting Practice & Learning Shapes from Learn With Play at Home
5 Scissor Exercises for Kids to Develop Scissor Skills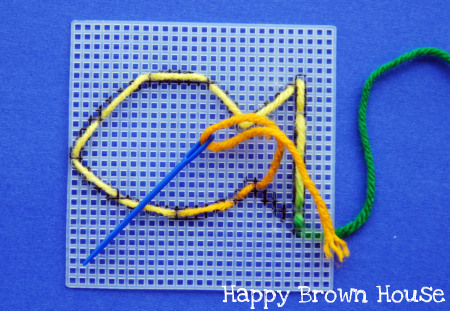 Lacing
Focus on Fine Motor Skills~Lacing
Pool Noodle "Beads" Lacing--Is there anything more fun than giant foamy beads for little hands?
Toilet Paper Roll Lacing Tools--A unique idea for recycling toilet paper rolls.
DIY Foam Lacing Cards--easy to make foam lacing cards
Baby Gate Weaving--large scale weaving!
18+ Fine Motor Activities for Kids Using Yarn--great list of ideas!
Giant Lacing Spider Web from Fun at Home With Kids
Feather Beading is simple and fun for kids.
I love the Rainbow Lacing Busy Bag from Coffee Cups and Crayons! So cute!
Child's Sewing Basket--I like the variety of skill level in this basket
Homemade Weaving Looms from Buggy & Buddy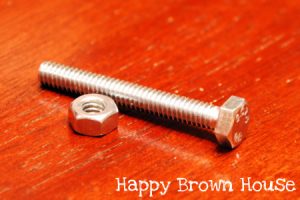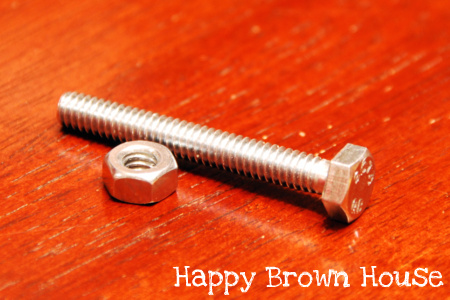 Twisting
Focus on Fine Motor Skills~Twisting
Heather from Crayon Box Chronicles and her son set up a DIY Geoboard with lots of twisting and then they played!
Tie-riffic Fun with Twist Ties is a clever idea for using leftover twist ties from Learn With Play at Home.
The DIY Latch Boards from My Life of Travels and Adventures are such a neat idea!
Fine Motor Skills Wheels from Lalymom are so fabulous! Kids will love these, especially if you use the family pictures.
Developing Fine Motor Skills Resources: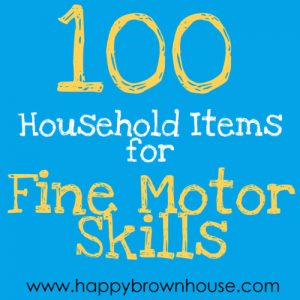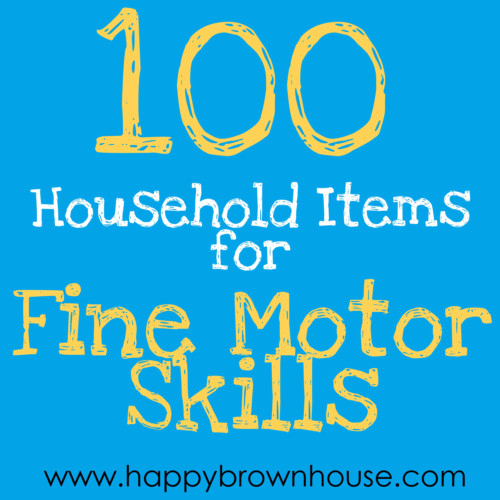 100 Household Items for Fine Motor Skills is a post I wrote that helps your take a look at normal household items in a new light and encourages you to use what you have at home to develop fine motor skills with objects children will use in day-to-day interactions.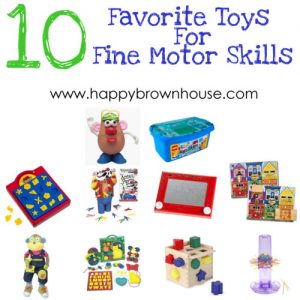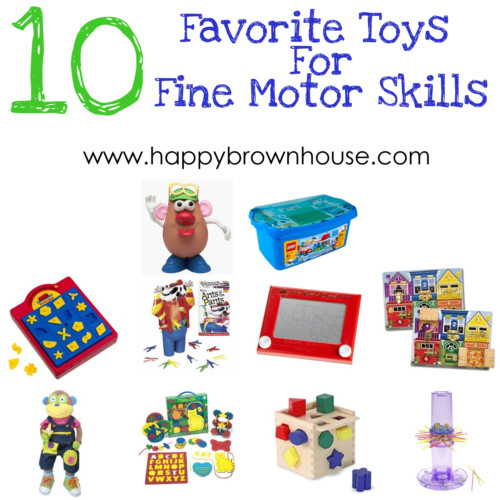 10 Favorite Toys for Fine Motor Skills--pretty self-explanatory, huh? 🙂
Homemade Playdough Recipe--my favorite recipe! Free printable recipe card included.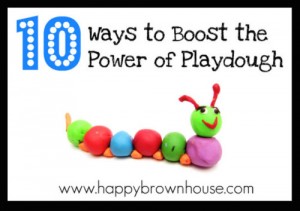 10 Ways to Boost the Power of Playdough--Think playdough is just rolling snakes? Think again.
Need even more ideas for playdough play? Here's my Playdough Pinterest Board
50 DIY Fine Motor Toys For Fine Motor Development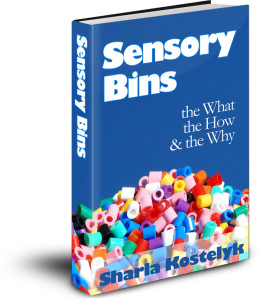 Sensory Bins: The What, The How & The Why written by my friend, Sharla. This ebook is a great place to start to get ideas and understand why sensory bins are perfect for little hands. While sensory bins have many uses, there are many fine motor benefits!
Basic Shapes For Beginners: A Hands-on Approach to Pre-Writing Strokes for Preschoolers written by my friend, Heather. This book is perfect if you are just starting to work with your little one to develop pre-writing strokes. I have been using some of the activities with my youngest son. It is a great first step for little hands.