*So, this post is, um, a year late. As I have started to plan the next birthday party, I realized I never got around to sharing this one! Oops! Better late than never, right?!?!
I find it almost humorous that I chose a Very Hungry Caterpillar Birthday Party theme for Asher's first birthday considering that this was the time in his life when he wouldn't eat and we were taking him to the GI doctor for tests. Maybe I hoped it would magically make him start eating. I digress. I had been planning this party in my head since before he was born. Obsessed much? Probably.
Nevertheless, I love the Very Hungry Caterpillar so much that I have an entire Pinterest board devoted to it. Eric Carle is my favorite. Enough about me, let's get to the party!
Very Hungry Caterpillar Birthday Party Invitations
I made the invitations using Microsoft Publisher and a Very Hungry Caterpillar clipart file I found online. I can't remember where I found it, and to be honest, I'm not sure it was a legal file, so I'm not linking to it in this blog post.
Very Hungry Caterpillar Birthday Cake
For Asher's smash cake, I made a small round cake to make the caterpillar head. Then, I made cupcakes with green icing for the caterpillar body. I placed them on some sturdy cake boards in the shape of a caterpillar. The extra cupcakes were placed on a cupcake stand.
I love how these turned out!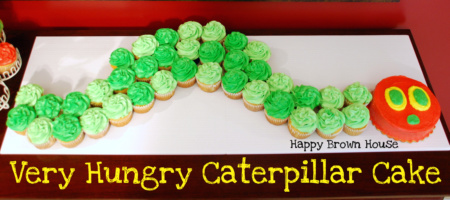 Very Hungry Caterpillar Fruit Kabobs
These were so simple to do! Just place some green grapes on a skewer and top them with a strawberry. Easy-peasy! The kids at the party loved these.
Very Hungry Caterpillar Embroidered Shirt
I embroidered a Very Hungry Caterpillar Shirt for Asher to wear at his party. Want to order one? Visit my Etsy Shop!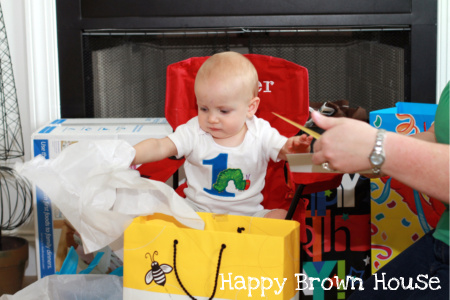 It was a great day to celebrate the blessing of Asher! His first year was rough, but we wouldn't trade him for the world. Through him, God has taught us lots of new lessons about parenthood and ourselves. We love you Asher!