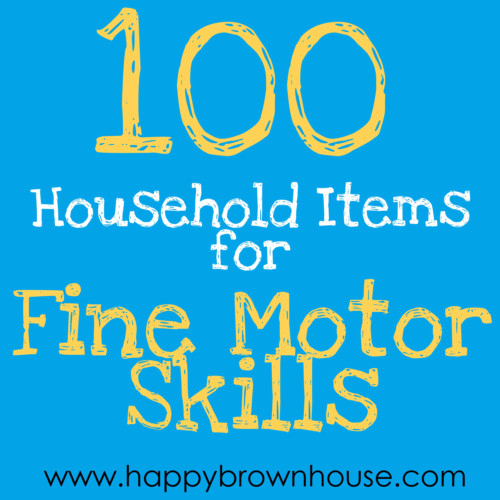 To you it may look like just another utensil drawer, but your house is full of tools to develop your child's fine motor skills. Kids love to use these tools because they are "grown-up" tools and often "off-limits," but I'm a believer in allowing our children to practice and explore while supervised. I've found that when I trust kids to use grown-up tools (after proper training), they usually rise to the occasion. Sure, the tape may be wrinkled and the yarn might be twisted in a knot, but if we never let them try, they'll never have a chance to succeed.
I've compiled a list of items from my home that we have used to help develop fine motor skills. Some of the items listed are the main tool, others are items that we used in combination with the main tool. For example, I've listed coffee filters. We've used these for cutting snowflakes during the winter and for spray bottle art. Either way, I hope this list encourages you to look at your house in a new way and see the potential for fine motor fun in the ordinary.
In the Kitchen
Wisk
Pizza Cutter
Toothpicks
Colander
Chip Clip
Ice Cube Trays
Can Opener
Corn Cob Holders
Skewers
Vegetable Peeler
Straws
Pasta
Measuring Cups/Spoons
Funnel
Plastic zip top bags
Foil
Plastic Cling Wrap
Recycled containers
Cookie Cutters
Rolling Pin
Silverware
Ice Cube Trays
Muffin Tins
Cookie Cooling Rack
Toothpicks

Laundry Room
Clothespins
Dustpan
Hand Broom
Squirt Bottle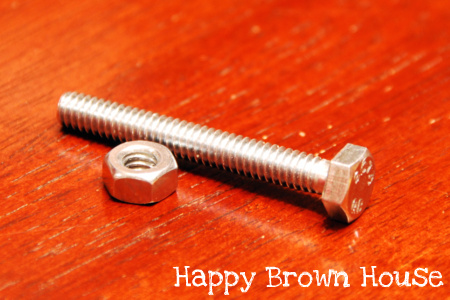 Garage/Toolbox
Hammer (small lightweight hammer or a plastic toy hammer)
Pliers
Paintbrush
Measuring Tape
Fishing Pole

Office
Paper
Post-it Notes
Paper Clips
Bulldog Clips
Rubber Bands
Tape Dispenser
Stapler
Staple Remover
Letter Opener
3 -Ring Notebooks (opening and closing them)
Folders (manipulating 3-prongs)

Bathroom
Tweezers
Sponge Rollers (mini pool noodle lacing beads)
Cotton Balls
Q-tips
Recycled Hairspray Bottle (the pump kind, not aerosal)
Hair Clips
Bobby Pins

Craft Cabinet
Pipe Cleaners
Paintbrush
Stickers
Pom Poms
Scrapbook Punches
Plastic Needle
Plastic Canvas
Embroidery Hoop
Zipper
Pins/Pincushion
Yarn
Markers
Colored Pencils
Crayons
Chalk
Watercolors
Tissue Paper
Ribbon

Miscellaneous
Bubble Packaging Wrap
Legos/Building Blocks
Combination Lock/Padlock
Puzzles
Chalkboard
Easel
Styrofoam
Bubbles/Wands
Used Clothing (practice fastening zippers, buttons, belts, etc.)
Computer Keyboard
Computer Mouse
What else would you add to the list?