For as long as I can remember, I've had Pumpkin Roll at Thanksgiving. It also happens to be my favorite thing to eat at Thanksgiving. I remember watching my mom make them each year to take to the family feast. Then, I watched in amazement at how they were always so beautiful when cut, revealing the perfectly spiraled pumpkin cake and cream cheese filling.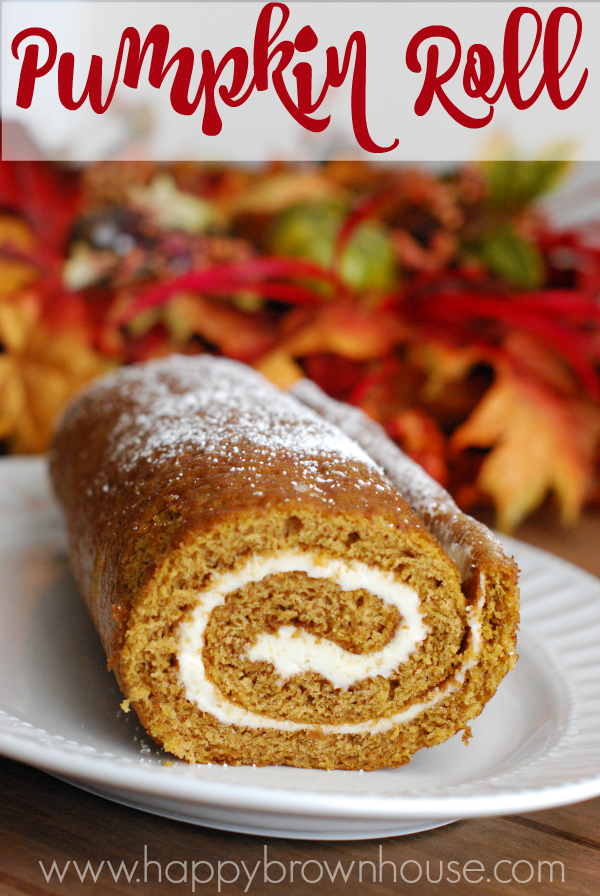 Now that I'm a mom and do a large portion of the Thanksgiving baking, I have mastered the art of the Pumpkin Roll. They seem intimidating to to make, but they really aren't that hard. Want to give it a try this year? I've made a video tutorial below. Here's the best pumpkin roll you'll ever eat.
How to Make a Pumpkin Roll Video Tutorial
Pumpkin Roll Recipe
Materials for the Cake:
Powdered sugar
3/4 cup all-purpose flour
1/2 teaspoon baking powder
1/2 teaspoon baking soda
1/2 teaspoon ground cinnamon
1/2 teaspoon ground cloves
1/4 teaspoon salt
3 large eggs
1 cup sugar
2/3 cup pure pumpkin
1 cup chopped walnuts (optional)
Materials for the Filling:
1 package (8 ounces) cream cheese, softened
1 cup sifted powdered sugar
6 tablepoons butter, softened
1 teaspoon vanilla extract
Powdered sugar
Directions for the Cake:
Preheat oven to 375 degrees.
Grease 15X10-inch jelly-roll pan; line with wax paper or parchment paper. Grease and flour paper.
Sprinkle a thin, cotton kitchen towel with powdered sugar.
Combine flour, baking powder, baking soda, cinnamon, cloves, and salt in a small bowl.
Beat eggs and sugar in large mixer until thick. Beat in pumpkin. Stir in flour mixture. Spread evenly into prepared pan. (Optional: sprinkle with walnuts.)
Bake for 13-15 minutes or until top of cake springs back when touched.
Immediately loosen and turn cake onto prepared towel. Carefully peel off wax paper.
Roll up cake and towel together, starting with the narrow end. Cool on a wire rack.
Directions for Filling:
Beat cream cheese, powdered sugar, butter, and vanilla extract in mixer until smooth.
Carefully unroll cake; remove towel.
Spread cream cheese mixture over cake.
Reroll cake.
Wrap in plastic wrap and refrigerate atleast 1 hour. Sprinkle with powdered sugar before serving, if desired.
Looking to make more than 1 pumpkin roll? The recipe can easily be doubled (tripling is not recommended). Once doubled, 2 1/2 cups of the cake batter will be needed for each prepared jelly-roll pan; 1 3/4 cups filling for each roll. Baking time remains the same.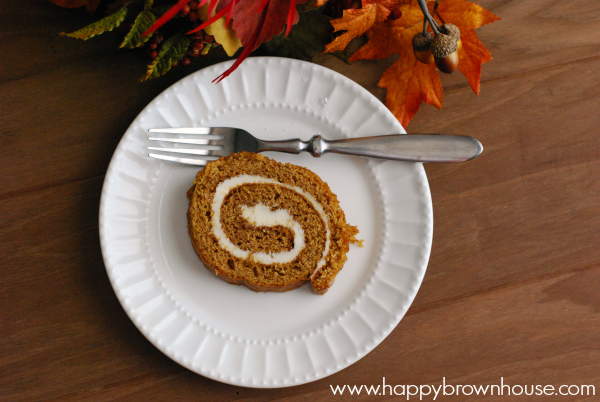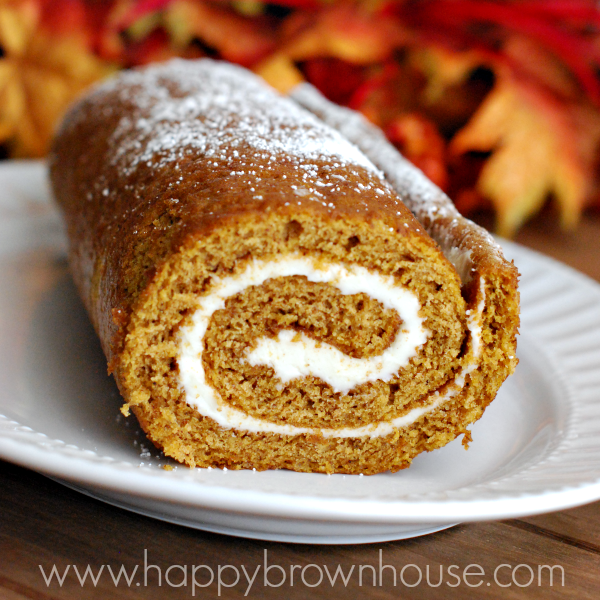 Like other pumpkin desserts? Try my Pumpkin Turnovers!