Our study of countries and cultures led us to India this time. We learned about the many folktales, the culture, and their beliefs from this list of India Books for Kids. While their religious beliefs are different from ours, I think it is still important to expose our children to various beliefs and compare them to what we believe. We had some interesting discussions as a result. As always, my favorite time of our homeschool day is when we curl up on the couch together and read aloud. I am soaking up the snuggles as long as I can since they are 10 and 6 at the time of writing this. My kids always glean so much information just from listening to the books read during read aloud time.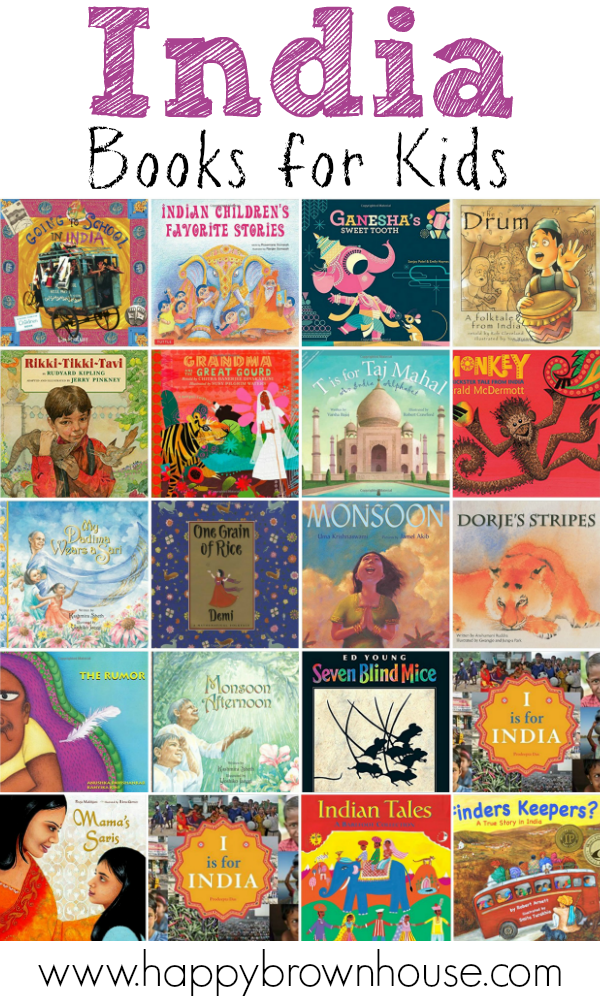 India Books for Kids
Use this list of books about India for for kids as a starting point for your India unit study or for your next trip to the library. *Affiliate links are present.
Count Your Way Through India
India with Benjamin Blog and his Inquisitive Dog
Indian Culture
India
Journey Through: India
National Geographic Countries of the World: India
India: The People
India: The Culture
India: The Land
Spotlight on India
It's Cool to Learn about Countries: India
India
Meet Our New Student from India
India (A World of Food)
India
Going to School in India
Recipe and Craft Guide to India
Mother Teresa: Helping the Poor
Taj Mahal
Taj Mahal
Monkey: A Trickster Tale from India
One Grain Of Rice: A Mathematical Folktale
The Blind Men and the Elephant
Seven Blind Mice
Rikki Tikki Tavi
Rikki-Tikki-Tavi
Mother Teresa
Homeless Bird
Snake Charmer
Indian Tales: A Barefoot Collection
Kali And the Rat Snake
Tigers at Twilight (Magic Tree House)
A Crazy Day with Cobras (Magic Tree House)
Living in . . . India
Adventures of Riley #6: Tigers in Terai
The Jungle Book
Monsoon Afternoon
The Jungle Book: Mowgli's Story
The Rumor
Nine Animals and the Well
Monsoon
The Story of Little Babaji
Elephant Prince: The Story of Ganesh
Dorje's Stripes
The Wheels on the Tuk Tuk
Sacred River
Amy Carmichael: Rescuer of Precious Gems (Christian Heroes: Then & Now)
Sundar Singh: Footprints Over the Mountains (Christian Heroes: Then & Now)
Buddha
&
More Book Lists for Kids
Geography Books for Kids
France Books for Kids
Canada Books for Kids
Mexico Books for Kids
Japan Books for Kids
China Books for Kids
Africa Books for Kids
Rainforest Books for Kids
Thanksgiving Books for Kids
Nativity Books for Kids
The Ultimate List of Winter Books for Kids
14 Picture Books about Building with Blocks, Engineering, and Architecture