As we've been studying countries and cultures in our homeschool, we've read some really great children's books about China. These China books for kids have taught us about the way of life in China and the rich culture full of legends and Chinese folktales. Every time I post a new book list for kids I always say that snuggling up with my kids on the couch to read is my favorite part of our homeschool day--and it's totally true. These times of reading together are full of learning and memory making. My boys still love to be read to and and love learning about countries with me as their narrator.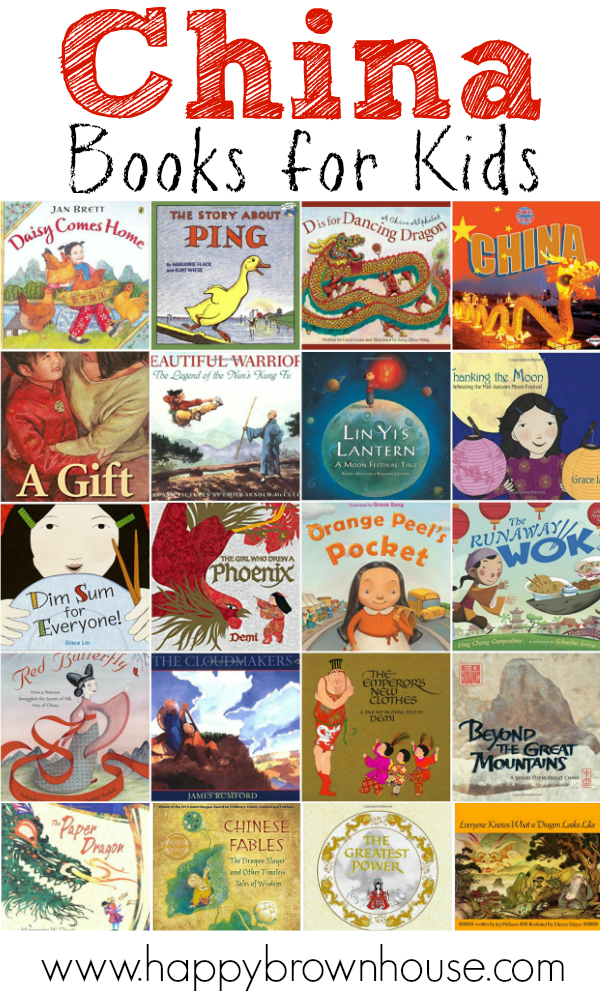 China Books for Kids
I hope you'll use this list of China books for kids to help make your list for the next time you go to the library. There really are some great books in this list. *Affiliate links are present.
Count Your Way Through China
D is for Dancing Dragon: A China Alphabet
Beautiful Warrior: The Legend of the Nun's Kung Fu
The Cloudmakers
Where Is the Great Wall?
The Emperor Who Built The Great Wall
You Wouldn't Want to Work on the Great Wall of China!
China (A World of Food)
China (Country Explorers)
China (DK Eyewitness Books)
China: The People
China: The Culture
China: The Land
It's Cool to Learn about Countries: China
Spotlight on China
The Food of China
You Are There! Ancient China 305 BC
Hidden Army: Clay Soldiers of Ancient China
Welcome to China
The Great Wall Of China
If I Were a Kid in Ancient China: Children of the Ancient World
All About China: Stories, Songs, Crafts and More for Kids
Ms. Frizzle's Adventures: Imperial China
Yeh-Shen: A Cinderella Story from China
Red Butterfly: How a Princess Smuggled the Secret of Silk Out of China
The Emperor's New Clothes: A Tale Set in China
Water Dragon : A Chinese Legend
The Story of Noodles
The Seven Chinese Brothers
Good Morning China
A Gift
Little Leap Forward: A Boy in Beijing
Beyond the Great Mountains: A Visual Poem About China
The Magic Pillow
The Runaway Wok: A Chinese New Year Tale
The Girl Who Drew a Phoenix
Lin Yi's Lantern
Thanking the Moon: Celebrating the Mid-Autumn Moon Festival
The Butterfly's Dream: Children's Stories from China
The Story of Kites
Orange Peel's Pocket
The Story about Ping
The Greatest Power
Everyone Knows What a Dragon Looks Like
Long-Long's New Year: A Story About the Chinese Spring Festival
Eyes of the Dragon
Ling Cho and his Three Friends
The Seven Chinese Sisters
Daisy Comes Home
The Story of Chopsticks
The Empress and the Silkworm
The Paper Dragon
The Emperor's Army
The Warlord's Messengers
The Warlord's Puppeteers
The Warlord's Kites
The Warlord's Fish
The Warlord's Puzzle
Legend of the Chinese Dragon
Tikki Tikki Tembo
The Chinese Siamese Cat
The Empty Pot
Grandfather Tang's Story: A Tale Told with Tangrams
In the Year of the Boar and Jackie Robinson
Young Fu of the Upper Yangtze
Lon Po Po: A Red-Riding Hood Story from China
Li Lun, Lad of Courage
Chinese Fables: The Dragon Slayer and Other Timeless Tales of Wisdom
Celebrating the Lantern Festival
Day Of The Dragon-King (Magic Tree House)
The Five Chinese Brothers
A New Year's Reunion: A Chinese Story
Dim Sum for Everyone
The Last Emperor
&
More Book Lists for Kids
Geography Books for Kids
France Books for Kids
Canada Books for Kids
Mexico Books for Kids
Rainforest Books for Kids
Thanksgiving Books for Kids
Nativity Books for Kids
The Ultimate List of Winter Books for Kids
14 Picture Books about Building with Blocks, Engineering, and Architecture