We got a belated Valentine in the mail from Tommy Nelson and I'm so glad we did!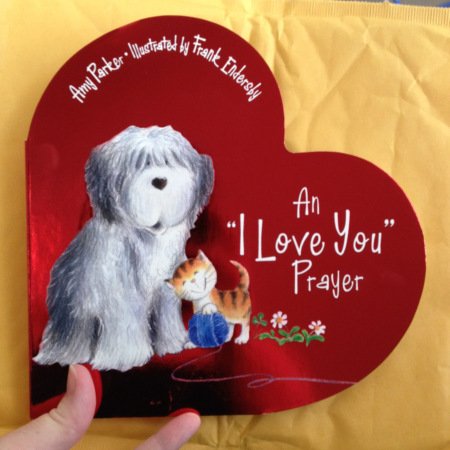 An "I Love You" Prayer
is the second book in the Time to Pray series by Amy Parker. It is a sweet book with charming illustrations! The board book is shaped like a heart. (I kinda love that…it's the little things, I tell ya!) The rhyming text is sweet and says a thank you to God for the many ways He shows us His love–a rainbow, homes, fields to explore, etc. (You can take a sneak peak at the book here!)
Our thoughts:
Jonah loved it! We've read it over and over, as we do with most of our Tommy Nelson books. We give this one two thumbs up! Jonah's favorite character in the book is the dog. 🙂
An Extension:
As we were reading An "I Love You" Prayer
, I asked Jonah what he would thank God for. He was precious…and came up with some hilarious things, too! He started listing a long list of people in our lives. Which got me thinking, we should tell these people that we are thinking about them and thankful for them!
So, we rolled up our sleeves…er, Jonah took off his shirt…and we got to work making something special to send to loved ones.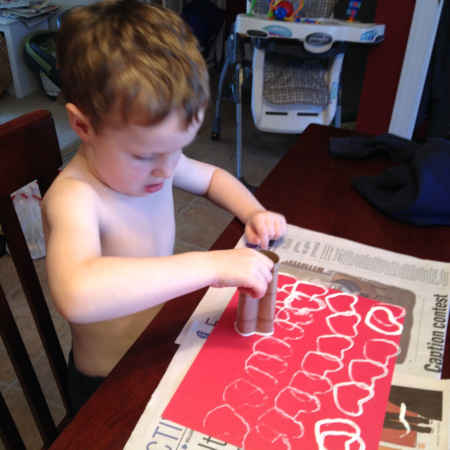 First, we got a red piece of paper. I took a recycled toilet paper and bent it so it would be the shape of a heart. Then, Jonah dipped it in the white paint and stamped hearts all over his paper. After it was dry, we used it to make a card to send in the mail…complete with a hug! (Two handprints on the end of a piece of ribbon~Easy Peasy!)
Tommy Nelson want to give one to a lucky reader!
To enter: Leave a comment sharing how your kids (or you) would fill in the blank
"God's love is like ____."
For an extra entry: Tweet or Share on Facebook using the share buttons below. (Leave a separate comment for each entry)
Giveaway will end Sunday, March 4th at midnight. U.S. residents only, please.
Disclosure: All thoughts from this review are my own. I received a free product in exchange for an honest review, but that did not influence my review. I genuinely like it!