Our homeschool study of countries and cultures has us reading lots of books from the library. This time it was books about Japan for kids. We loved reading these Japan books for kids to learn about Japanese culture from the nonfiction books and hear some great stories from the fiction books. Our trip to the library for books really rounds out our country studies. Each day we have a set time where the kids read (or the youngest looks at) books. Then, I pick some of the stories to read aloud--even my 9 year old still likes for me to read aloud with him. These times of curling up on the couch together with a stack of books are some of my favorite times with my kids. By reading about each of the countries we are studying, my oldest is able to do a mini report sharing interesting facts about each country. He gains most of his knowledge during our book basket time. My youngest (5 years old) loves to sit with us while we read and is learning right along with us.
Even if you don't homeschool your kids, this list is great for extending the learning at home for your child when they are studying these countries in school or just for some after school fun. You never know...they might just learn something! It's also a great list for teachers as they plan Japan unit studies.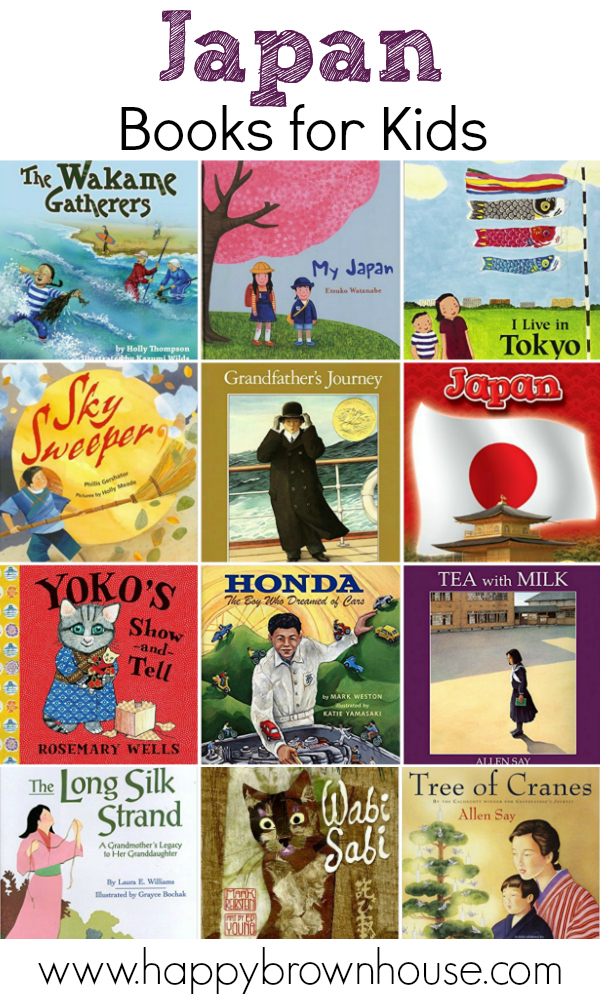 Japan Books for Kids
Click on the picture of the books to learn more about each book. *These are affiliate links.*
Some of our favorites not to miss include Tea with Milk, Tree of Cranes, and Grandfather's Journey by Allen Say. They are all connected and tell a bigger story when read together in that order.
Count Your Way Through Japan
Japan
Japan
It's Cool to Learn About Countries: Japan
Spotlight on Japan
Look What Came from Japan
All About Japan: Stories, Songs, Crafts and More
Amazing Pictures and Facts About Japan: The Most Amazing Fact Book for Kids About Japan
Meet Our New Student from Japan
My Japan
The Way We Do It in Japan
The Boy from the Dragon Palace
Three Samurai Cats: A Story from Japan
In the Eyes of the Cat: Japanese Poetry for All Seasons
Sadako
Sadako and the Thousand Paper Cranes
The Tale of the Mandarin Ducks
Crow Boy
Grandfather's Journey
Tree of Cranes
The Wise Old Woman
The Paper Dragonfly
Tea with Milk
Yoko's Paper Cranes
Manjiro: The Boy Who Risked His Life for Two Countries
Shipwrecked!: The True Adventures of a Japanese Boy
Circus Day in Japan
Sky Sweeper
Wink: the Ninja Who Wanted to Nap
Wink: The Ninja Who Wanted to Be Noticed
Wabi Sabi
Kamishibai Man
The Wakame Gatherers
Yoko's Show-and-Tell
Girl from the Snow Country
Erika-San
The Long Silk Strand
Grass Sandals: The Travels of Basho
Kites: Magic Wishes That Fly Up to the Sky
The Bicycle Man
Drums of Noto Hanto
The Warrior and the Wise Man
I Live in Tokyo
Suki's Kimono
Tsunami!
The Beckoning Cat: Based on a Japanese Folktale
Under the Cherry Blossom Tree: An Old Japanese Tale
Yuki and the One Thousand Carriers
Hokusai: The Man Who Painted a Mountain
Hachiko: The True Story of a Loyal Dog
My Awesome Japan Adventure: A Diary about the Best 4 Months Ever!
A Treasury of Japanese Folktales
Japanese Children's Favorite Stories
The Tiny Traveler: Japan
My First Book of Japanese Words: An ABC Rhyming Book
Once Upon a Time in Japan
&
More Book Lists for Kids
Geography Books for Kids
France Books for Kids
Canada Books for Kids
Mexico Books for Kids
Rainforest Books for Kids
Thanksgiving Books for Kids
Nativity Books for Kids
The Ultimate List of Winter Books for Kids
14 Picture Books about Building with Blocks, Engineering, and Architecture