For our Africa unit study during our homeschool year's theme of countries and cultures we read some really great books. We studied the grasslands and African animals as well. Some of our favorite books were the books about real people that have made the world a better place like Wangari Maathai, the first African woman and environmentalist to win a Nobel Peace Prize. These Africa books for kids made a rich and full unit study of Africa. I've said it before and I'll say it again--curling up on the couch together during our read aloud time is my favorite part of our homeschool day. I hope this list of Africa Books for Kids inspires some great time on the couch for you and your kids.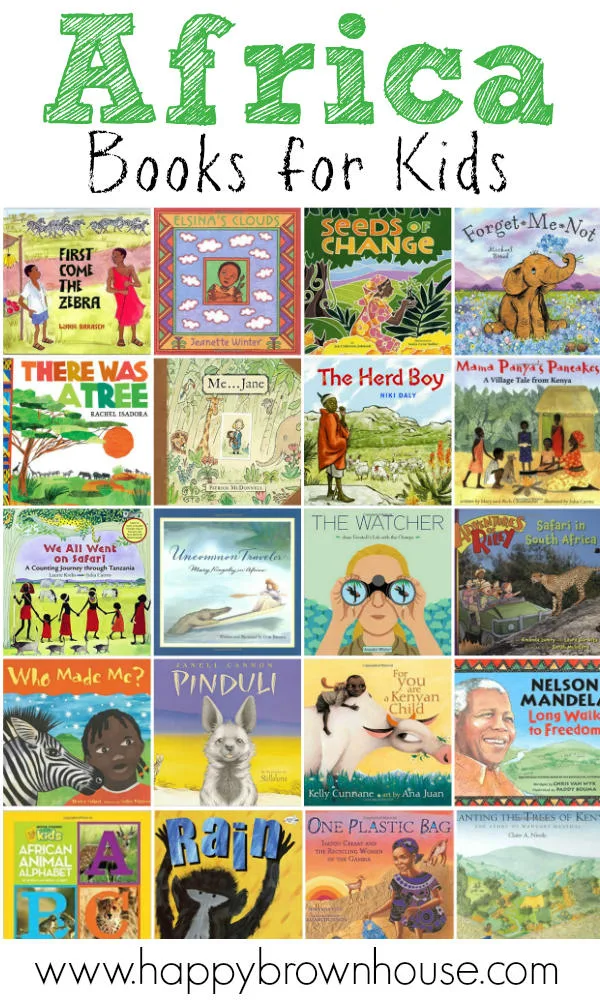 Africa Books for Kids
Use this list to help you plan your Africa unit study and use it for when you go to the library. There are some really great books on the list that are not to be missed! *Affiliate links are present.
Atlas of Africa
Africa (Eyewitness Books)
Ancient Africa
Modern Africa
Seven Natural Wonders of Africa
I Dreamed of Flying Like a Bird: My Adventures Photographing Wild Animals from a Helicopter
African Culture
Only the Mountains Do Not Move: A Maasai Story of Culture and Conservation
Meet Our New Student From Nigeria
S is for South Africa
Spotlight on South Africa
Meet Our New Student from South Africa
Welcome to South Africa
Recipe and Craft Guide to South Africa
Traditional Crafts from Africa
African Crafts: Fun Things to Make and Do from West Africa
African Animal Alphabet
Endangered Animals of Africa
Kingdom: Savage Safari
African Animals
Elephant
Zebra
Amazing Animals: Lions
Amazing Animals: Tigers
Amazing Animals: Jaguars
Meerkats
Savanna Food Chains
African Acrostics: A Word in Edgeways
Little Big Ears: The Story of Ely
Can You Spot the Leopard?: African Masks
Adventures of Riley #1: Safari in South Africa
Living in . . . South Africa
Nelson Mandela:
Nelson Mandela
Peaceful Protest: The Life of Nelson Mandela
Nelson Mandela: Long Walk to Freedom
Emmanuel's Dream: The True Story of Emmanuel Ofosu Yeboah
The Watcher: Jane Goodall's Life with the Chimps
Me . . . Jane
Wangari's Trees of Peace: A True Story from Africa
Seeds of Change: Planting a Path To Peace
Planting the Trees of Kenya: The Story of Wangari Maathai
Mama Miti: Wangari Maathai and the Trees of Kenya
The Mangrove Tree: Planting Trees to Feed Families
One Plastic Bag: Isatou Ceesay and the Recycling Women of the Gambia
Uncommon Traveler: Mary Kingsley in Africa
African Princess: The Amazing Lives of Africa's Royal Women
Owen & Mzee: Language Of Friendship
Mama for Owen
This Is the Tree
Here Is the African Savanna
Jambo, Watoto!: Hello Children!
The Jungle Grapevine
Africans Thought of It: Amazing Innovations
The Herd Boy
The Song of Six Birds
Rain
Where's Jamela?
What's Cooking, Jamela?
A Song for Jamela
I Saw Your Face
Bringing the Rain to Kapiti Plain
We All Went On Safari
Mama Panya's Pancakes
Why Mosquitoes Buzz in People's Ears: A West African Tale
Safari
Lions at Lunchtime (Magic Tree House, No. 11)
I Lost My Tooth in Africa
Honey... Honey... Lion! A Story from Africa
Soccer World: South Africa: Explore the World Through Soccer
The First Bear in Africa!
Doctor De Soto Goes to Africa
Jungle Drums
Kidogo
Sivu's Six Wishes: A Taoist Tale
Meet Me at the Moon
Under the Baobab Tree
Flat Stanley's Worldwide Adventure #6 - The African Safari Discovery
Forget-Me-Not
Home Now
Next Stop--Zanzibar Road!
Welcome to Zanzibar Road
There Was a Tree
Your Moon, My Moon: A Grandmother's Words to a Faraway Child
Africa Calling, Nighttime Falling
Elsina's Clouds
Goal!
Mama Panya's Pancakes
Africa Dream
Jaha and Jamil Went Down the Hill: An African Mother Goose
Baby Baboon
Lazy Lion
Tricky Tortoise
Lake Of the Big Snake
Big Boy
Catch That Goat!
We're Going on a Lion Hunt
Galimoto
A South African Night
If You Should Hear a Honey Guide
Mufaro's Beautiful Daughters : An African Tale
Pretty Salma: A Little Red Riding Hood Story from Africa
Anansi Goes Fishing
A Stork in a Baobab Tree: An African 12 Days of Christmas
Water Hole Waiting
Bashi, Elephant Baby
Who Made Me?
Over in the Grasslands
One Hen: How One Small Loan Made a Big Difference
The Hunterman and the Crocodile: A West African Folktale
The Village That Vanished
Count Your Way Through Africa
Count Your Way Through Zimbabwe
Two Ways to Count to Ten: A Liberian Folktale
Count Your Way Through South Africa
Count Your Way Through Kenya
Count Your Way Through Egypt
Deep in the Sahara
One Child One Seed: A South African Counting Book
Count on Your Fingers African Style
Anna Hibiscus' Song
Why Mosquitoes Buzz in People's Ears: A West African Tale
Halala means welcome! : a book of Zulu words
Emeka's Gift: An African Counting Story
Moja Means One: Swahili Counting Book
Africa Is My Home: A Child of the Amistad
Elephants of Africa
Riley Mae and the Sole Fire Safari
The Twelve Dancing Princesses
This Is the Mountain
Chee-Lin: A Giraffe's Journey
Dear Baobab
Hippos Are Huge!
The Warm Place
Emily the Giraffe
Muktar and the Camels
Chirchir Is Singing
The Matatu
A Kenya Christmas
For You Are a Kenyan Child
Lila and the Secret of Rain
First Come the Zebra
African Animals ABC
The Spirit of the Maasai Man
Pinduli
How Many Spots Does a Leopard Have?: An African Folktale
Two Ways to Count to Ten: A Liberian Folktale
Somewhere in Africa
Mary Slessor: Forward into Calabar (Christian Heroes: Then & Now)
David Livingstone: Africa's Trailblazer (Christian Heroes: Then & Now)
&
More Book Lists for Kids
Geography Books for Kids
France Books for Kids
Canada Books for Kids
Mexico Books for Kids
Japan Books for Kids
China Books for Kids
India Books for Kids
Rainforest Books for Kids
Thanksgiving Books for Kids
Nativity Books for Kids
The Ultimate List of Winter Books for Kids
14 Picture Books about Building with Blocks, Engineering, and Architecture