Out of all of our countries and cultures unit studies Australia was our favorite. We've loved reading about the Australian outback and, of course, kangaroos, koalas, wombats, and platypuses. This list of Australia Books for Kids has some fabulous books included. We loved "The Pumpkin Runner"--a story inspired by a real person. "Finding Home" is a must read--another story inspired by a true story. Curling up on the couch together to enjoy these books was a pleasure.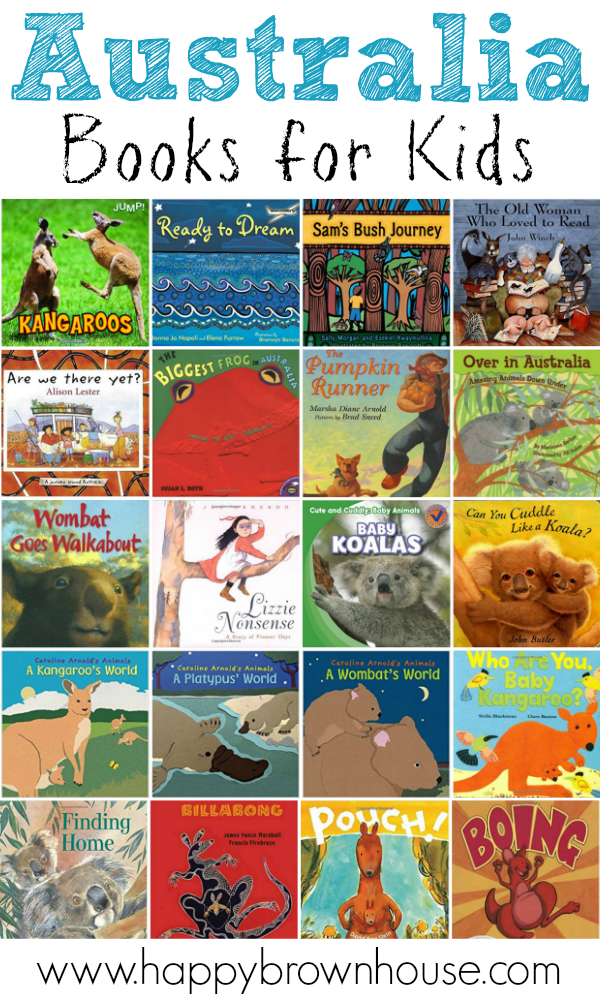 Australia Books for Kids
Use this list to help you on your next trip to the library or use them for an Australia unit study. *Affiliate links are present.
Australia
Australia
Explore Australia and Oceania
Australia the People
Australia
Spotlight on Australia
Endangered Animals of Australia
What is a Marsupial?
Australian Animals
Australian Outback Food Chains
National Geographic Readers: Koalas
Koalas
Koalas
Baby Koalas
Kangaroos
Over in Australia: Amazing Animals Down Under
WHALE'S CANOE A Folktale from Australia
Are We There Yet?
The Biggest Frog in Australia
Wombat Goes Walkabout
The Pumpkin Runner
The Old Woman Who Loved to Read
Adventures of Riley #7: Outback Odyssey
Ready to Dream
Sam's Bush Journey
Stories from the Billabong
Snap!
Hip-Pocket Papa
A Wombat's World
Mirror
Lizzie Nonsense
Big Rain Coming
A Platypus' World
Koala Kate
Finding Home
Can You Cuddle Like a Koala?
Marsupial Sue
Marsupial Sue Presents a Pancake
A Kangaroo's World
Who Are You, Baby Kangaroo?
Pouch!
Heart in the Pocket
Boing!
I Love It When You Smile
Katy No-Pocket
Kangaroo for Christmas
&
More Book Lists for Kids
Geography Books for Kids
France Books for Kids
Canada Books for Kids
Mexico Books for Kids
Japan Books for Kids
China Books for Kids
Africa Books for Kids
Rainforest Books for Kids
Thanksgiving Books for Kids
Nativity Books for Kids
The Ultimate List of Winter Books for Kids
14 Picture Books about Building with Blocks, Engineering, and Architecture