At our house, we love children's books. That's why I love sharing book lists for kids. I always like to give my readers a glimpse into our carefully curated library bag. On any given day, you will see us curled up on the couch reading books from our latest trip to the library.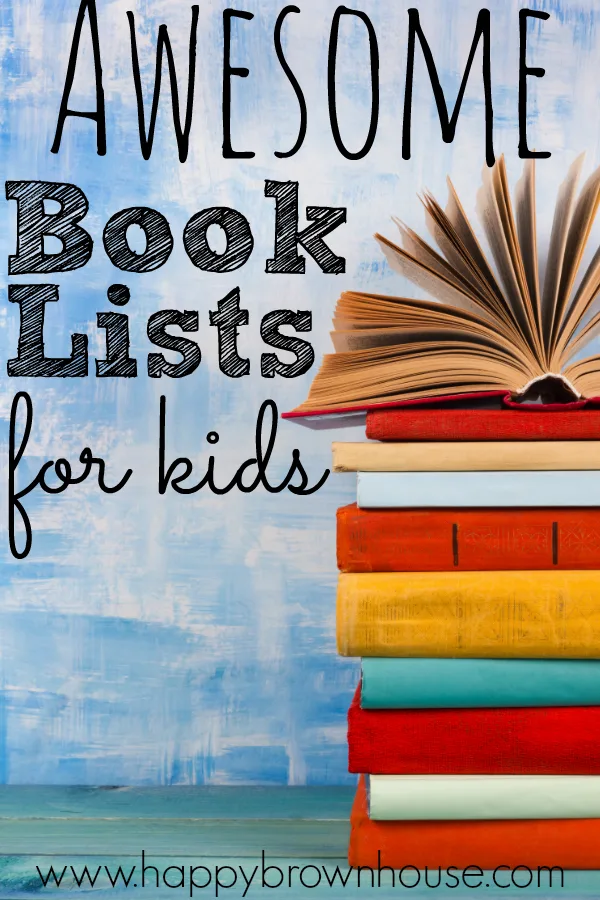 As a former teacher turned homeschool mom, I have hundreds of books lining the shelves in our homeschool room. I love to use books for unit studies in our homeschool. In my opinion, nothing rounds out a unit study quite like a stack of good children's books.
I like to search for quality books for unit studies, often searching the library and the used book store. The lists on this page are books that we have used for our own homeschool unit studies. Since I was a former teacher and now homeschool my children, I've gathered the lists of books for kids with unit studies in mind.
However, you don't have to use these list for teaching or homeschooling! These awesome books for kids are perfect for finding the perfect book for snuggling up on the couch together and reading just for reading's sake. These themed book lists for kids are great for kids who can't get enough of one topic, too.
The lists of books for kids is broken up into categories to help you find them easier. They are also placed in alphabetical order for your convenience. As we continue to share more book lists, this page will grow and change, so be sure to save it to use as a future reference.
Animal Books for Kids
Geography Books for Kids
Science Books for Kids
Holiday & Seasonal Books for Kids
Meaningful Easter Books that Teach about the Resurrection
Groundhogs Day Activities and Books for Kids
Famous People Books for Kids
Martin Luther King, Jr. Books for Kids
Miscellaneous Books for Kids
Great Living Books for Teaching History
Picture Books about Building with Blocks, Engineering, and Architecture
Reading Resources
Can't get enough book lists for kids? These books for adults include great book lists for kids. I consult them when I need some inspiration.
Jim Trelease's Read Aloud Handbook
More Great Kid Resources
Easy Science Experiments for Kids
Fine Motor Skills Development in Kids